Photos of Prince Harry in Barbados Calypso Dancing For Haiti, Playing Polo and Falling From Horse, Meeting Sick Children 2010-02-01 03:55:28
Harry Bonds, Boogies and Rides Horseback in Barbados
Prince Harry had a busy weekend in Barbados, meeting local dignitaries at Grantley Adams Airport in Bridgetown on Friday and then on Saturday sharing cuddles with children at the Queen Elizabeth ll hospital. He met more children at a garden party at the Garrison Museum, where he tried out spicy food alongside Prince Seeiso of Lesotho. The pair changed in to Haiti We Care t-shirts at a concert at Farley Hill on Saturday night, and the Prince proved his dancing credentials by getting up on stage for some Calypso dancing, after challenging donors to phone in and raise 5,000 Barbados dollars (£1,560) at the televised fundraiser.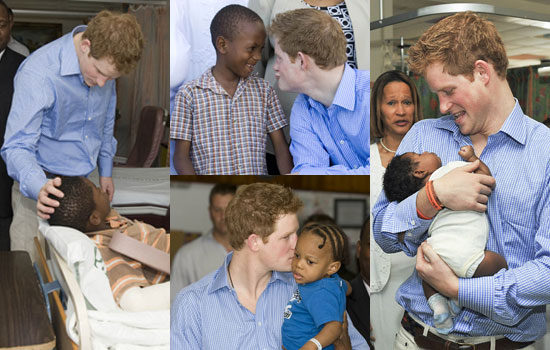 Come Sunday Harry took to horseback in Apes Hill to launch the Sentebale Polo Cup to help raise funds for Lesotho's vulnerable children. He met fellow redhead Cilla Black as well as Russ Abbot at the pre-match reception, and spoke about his hair colour in a recently unveiled portrait of him and brother William, saying: "I'm a little bit more ginger in there than I am in real life... and [Wills] got given more hair". Harry was thrown from his horse during the match but got back on his feet unhurt. I'm sure his girlfriend and new flatmate Chelsy Davy will kiss him better when he gets back home in time for yet more sporting occasions at the weekend.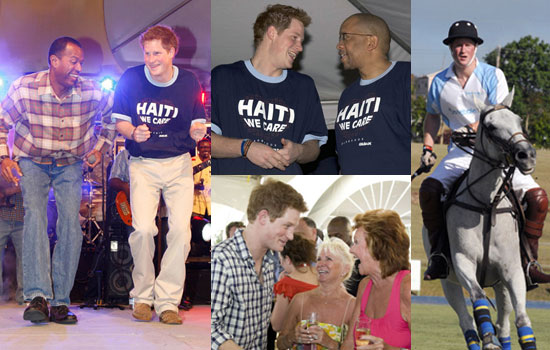 To see more pictures of Harry in Barbados, just read more.