Photos of Prince Harry in New York at Polo Match With Kate Hudson, Maddona and Marc Jacobs
Madonna and Kate Join Prince Harry During His NYC Tour
Prince Harry spent the weekend on official duties in New York City, paying his respects at Ground Zero, planting a tree at the British Garden at Hanover Square, playing with the kids at Harlem Children's Zone, and taking part in a charity polo match. A whole host of celebrities turned up for the Veuve Clicquot Manhattan Polo Classic on Governor's Island, including LL Cool J, Madonna, Marc Jacobs, Chole Sevigny and a newly brunette Kate Hudson. My girl Bella UK wants to know do you prefer Kate as a blonde or brunette? Prince Harry's Sentebale team beat Blackwatch 6-5 and he celebrated with champagne before giving a lengthy interview: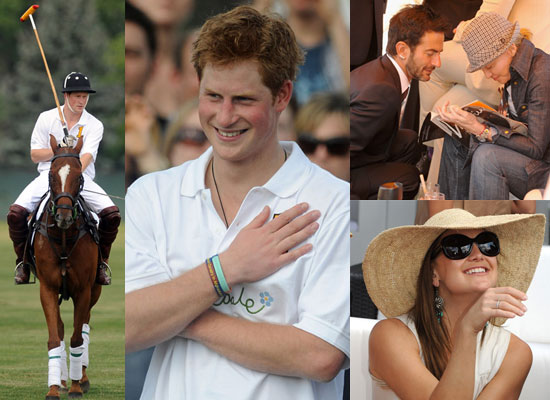 On living with William: "He does most of the cooking. I spend time just lying around, watching TV and doing my work."
On his RAF training: "There's times when I thought, you know, I'm not really cut out for this mentally. I hope I've got the physical skills to fly a helicopter. But mentally, there are exams and everything. I mean, I can't do maths. I gave that up when I left school, as anyone does at that age. But I've been throwing myself back in the deep end."
On his mother's legacy: "Prince Seeiso and I both lost our mothers when we were young. We set up Sentebale in their memory. Sentebale is the Lesotho word for the flower forget-me-not. This beautiful kingdom has been ravaged by HIV/AIDS and poverty, leaving thousands of children without parents to look after them. We hoped to create a charity that would transform children's lives, giving them a sense of hope and security. We really do believe that Sentebale is doing this."
It's great to see Harry getting so involved with such good causes.
To see loads more pictures of the celebs at the polo, plus Harry all over NYC, just read more.
Images include: Prince Harry, Kate Hudson, Madonna, Marc Jacobs, Lorenzo Martone, Chloe Sevigny, LL Cool J