Photos Of Prince William With a Beard, Prince Harry plus the Royal Family on Christmas Day in Sandringham
Royals Celebrate Christmas With Headwear and Facial Hair
Although the female members of the royal family showed off an array of hats on Christmas Day, all eyes were on Prince William's new facial hair: do you prefer him clean shaven or bearded? They gathered for a service at St Mary Magdalene Church in Sandringham, and while Autumn Phillips and Princesses Beatrice and Eugenie all chose low key headgear, Zara Phillips made a more daring choice with her magenta number: do you love or hate it? As so many of us are feeling the affects of the credit crunch, the Queen has reportedly shelved plans to buy a £7million private jet because it would be a "PR disaster". In her annual televised speech, the Queen spoke about how this Christmas is "a more somber occasion for many", but added that the courageous would be "all the more determined to struggle for a better future".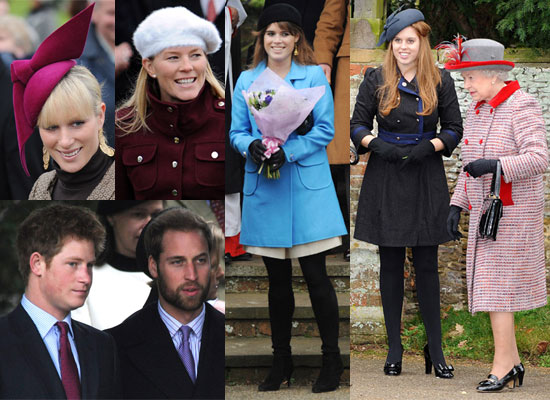 You've still got time to vote for Wills or Harry as your favourite British male of 2008! You can also take a look back at a year in the life of the Princes.
To see more pictures of all the royals in attendance, including Camilla Parker Bowles, Prince Andrew, Prince Charles, Prince Philip, Sophie Rhys Jones and Peter Phillips, just read more.
Images include: Camilla Parker Bowles, Prince Andrew, Prince Charles, Prince Harry, Prince Philip, Prince William, Princess Beatrice, Princess Eugenie, Queen Elizabeth II, Sophie Rhys Jones, Zara Phillips, Autumn Phillips, Peter Phillips