Photos of Prince William at UEFA Champions League Final While Rumours Suggest a Wedding Announcement is Close
Wills Watches the Football While Wedding Rumours Whirl
Prince William had a good chuckle with King Juan Carlos of Spain and UEFA's president at the Champions League Final in Rome last night. As president of the FA, Wills pressed palms with those involved in the action like Cristiano Ronaldo and Alex Ferguson, plus Fabio Capello, as Barcelona beat Manchester United. While William's busy with official duties and helping Harry with helicopter training, rumours are circulating that Wills and Kate might be on the verge of announcing their engagement. The BBC is making a documentary about the couple's courtship called Their Story, which will air on the night of the official announcement. While the BBC is playing down suggestions it has received a tip off, a senior executive has said: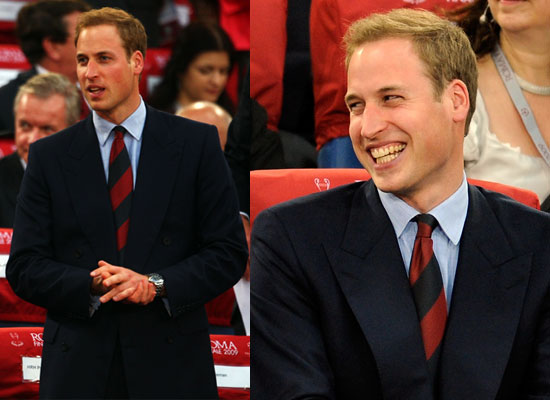 "Believe me, in these straitened times, we would not be spending money on this programme if we had not been assured that they were definitely going to get engaged".
Like me, lots of you would like to see Wills and Kate walk down the aisle. I can't wait!
To see pictures of William meeting Sir Alex, Cristiano and Fabio, just read more.