Photos and Quotes From Megan Fox in Harper's Bazaar UK
Megan Fox Has Lots to Say on Sex, Work and Being a Stepmum
Megan Fox struck a few dramatic poses for the April issue of Harper's Bazaar, which is out today. Just as in her recent spread for W, Megan's interview touched on her recent sexy campaign for Armani. Conversation turned, though, to more personal topics like her sex life, being a stepmum to Brian Austin Green's 7-year-old son Kassius, and her career. Megan said: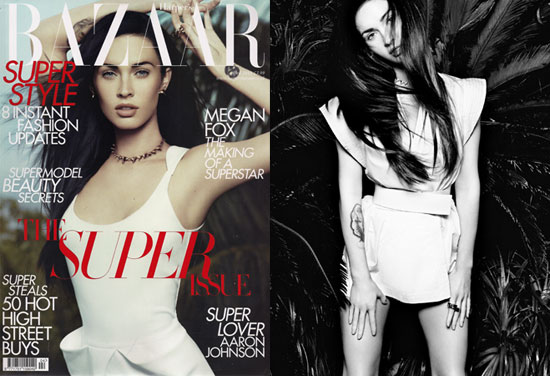 On her love life: "I've only been with two men my entire life — my childhood sweetheart, and Brian. I can never have sex with someone that I don't love, ever. The idea makes me sick. I've never even come close to having a one-night stand."
On helping raise Kassius: "I am a stepmother to the fullest extent. I have looked after Kassius since he was 3, and he has no memory of life without me. For some reason, no one wants to look at me that way, but I am responsible [for him] and I've never struggled with that, from bedtime stories to the school run."
On having any career regrets: "My biggest regret is that I've assisted the media in making me into a cartoon character. I don't regret what has happened to me, but I regret the way I have dealt with it."
On her goals: "I don't have a clear path. Really, it's about reading and loving something. It's not about blockbusters or money. Sure, I'm tied into a franchise that makes so much money, but that means my other projects can be for love. From here on in, I want to make films that I want to watch myself."
Photos courtesy Paola Kudacki for Harper's Bazaar