Photos of Rachel Weisz In Lingerie Underwear Semi-Naked on Cover of Esquire February 2010 Issue 2010-01-07 08:04:40
Rachel Weisz Is Marriage Material to Esquire Readers
Rachel Weisz looks gorgeous on the cover of February's Esquire "Women We Love" issue. The magazine polled its male readers on which famous females they'd most like to drink with, go to bed with and marry, and Rachel was named most marriable. She chatted with the mag about that new accolade, her partner and being a spy. Here are the highlights: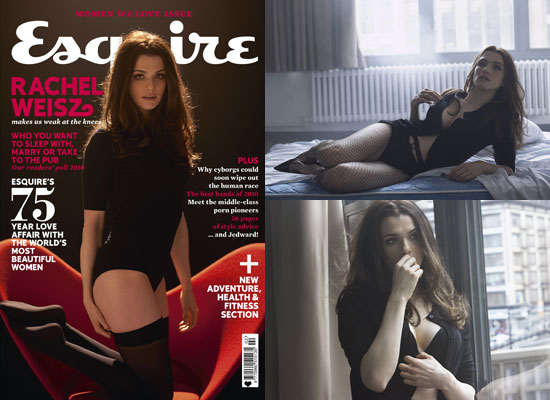 On her best ever date with partner Darren Aronofsky: "There's a prehistoric rollercoaster there [on Coney Island] called The Cyclone. It's made of wood and literally falling apart. It's kind of a museum piece. It does not look safe in any way. It really terrified me. But I felt like it was an initiation test and if I said 'No', I wouldn't be his. I think it was probably the best date of my life."
On being named most marriable woman: "Oh my God! Really? To marry? So were there different categories? Like, to have sex with, have a drink with? That's interesting. That's so funny. I'm marriable. But I'm not married!"
On being a homebody: "I don't like travelling. Which is ridiculous. And it's not because I'm afraid of dying on the plane or anything. I just like to stay at home. [But] I'm very lucky. Most people would be going, 'Shut up! Oh, I'm so sorry you get flown around the world and put up in nice hotels!' It's a pretty hilarious problem to have."
To see behind-the-scenes footage and find out what Rachel had to say about what Darren Aronofsky's really like, which other men she adores, and how she wanted to be a spy, just read more.


On what Darren Aronofsky's really like: "He's very unpretentious for someone who makes very arty, thoughtprovoking films. He's very Brooklyn."
On other men she adores: "Everyone falls in love with [Mark Ruffalo]: women, dogs, men... He's very magical. A lot of fun." [There's also Bill Nighy and Jimmy Stewart.] "I almost can't bear it when Katharine Hepburn picks Cary Grant at the end of The Philadelphia Story. I would always pick Jimmy Stewart, every time. Who else? I guess Lou Reed. I've been listening to him since I was a teenager. He totally does it for me!"
On growing up wanting to be a spy: "I think being an actress you almost are a kind of spy, finding out about different people and then posing as them, which is a lot of fun."
Rachel Weisz from esquireuk on Vimeo.
The full feature appears in the February issue of Esquire, on sale today.
Photographer credit Greg Williams. Pictures courtesy of Esquire