Photos of Ricky Whittle's Hollyoaks Leaving Party Fancy Dress Carley Stenson, Jennifer Metcalfe, Kieron Richardson, Gemma Merna
Ricky Whittle Bids Hollyoaks Goodbye With Fancy Dress Party
Ricky Whittle invited his Hollyoaks costars to Portico in Liverpool last night for his leaving do fancy dress party. The theme was Cowboys and Indians and Ricky took the opportunity to get shirtless, which the majority of you will be pleased to see as you voted his naked physique sexy sexy back in September. His ex-girlfriend Carley Stenson dressed as a cowgirl, as did Jennifer Metcalfe and Bronagh Waugh, who gave Kieron Richardson a piggy back!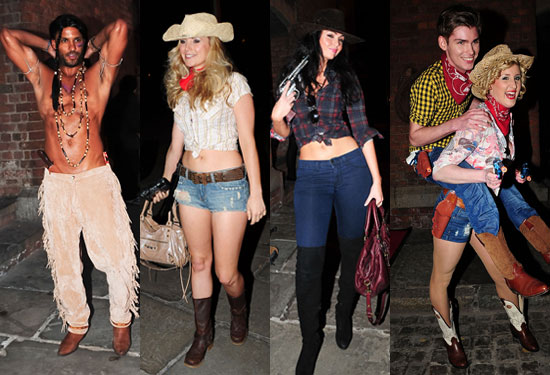 The party was also attended by the McQueen gang Gemma Merna, Claire Cooper, Nicole Barber-Lane and Alison Burrows, plus Ricky's onscreen family Devon Anderson and Nathalie Emmanuel (who are now dating), plus Milky Bar Kid Gerard McCarthy, Stephen Uppal and newbies Alice Barlow and Beth Kingston. Ricky tweeted about tequila slushes they were knocking back, before leaving in a pantomime horse costume with Carley. He's been in training for the London Marathon after a hernia operation, so he definitely deserves a night of fun!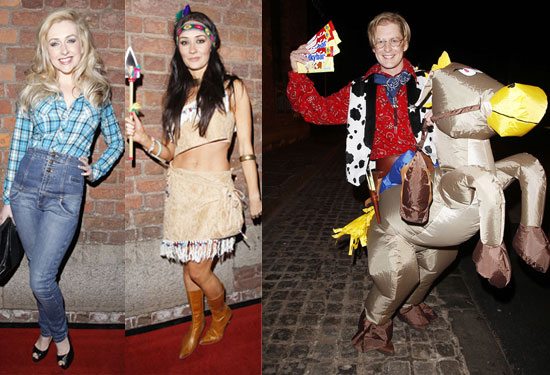 To see LOADS more pictures of the Hollyoaks gang in fancy dress, just read more.
Images include: Ricky Whittle, Carley Stenson, Jennifer Metcalfe, Kieron Richardson, Bronagh Waugh, Gemma Merna, Claire Cooper, Nicole Barber-Lane, Alison Burrows, Devon Anderson, Nathalie Emmanuel, Gerard McCarthy, Stephen Uppal, Alice Barlow, Beth Kingston