Photos of Rihanna on Good Morning America Talking About Chris Brown
Rihanna Breaks Her Silence and Speaks About Chris Brown
Rihanna has spoken for the first time about her incident with Chris Brown in February. Speaking to Diane Sawyer in an interview which will air in the States on Good Morning America on Thursday and on 20/20 on Friday, Rihanna says: "This happened to me. … It can happen to anyone" and adds that Chris "was definitely my first big love". She was later seen out about about in Manhattan, and has also opened up in the December issue of US Glamour magazine, as one of their Women of the Year, about how she coped in the aftermath: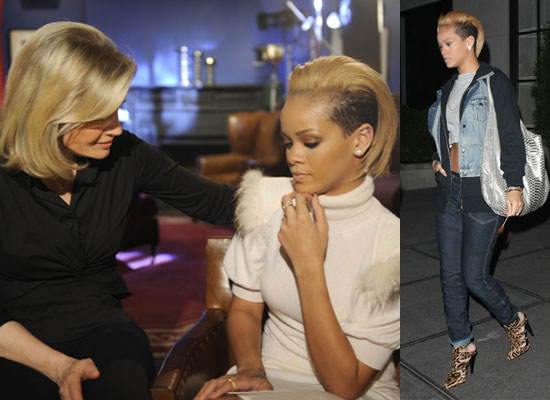 On how the people around helped her cope: "My friends and family have been extremely supportive, and everyone has been there for me. But at some point you are there alone. It's a lonely place to be—no one can understand. That's when you get close to God."
On she has changed as a resut: "I'm stronger, wiser and more aware. You don't realize how much your decisions affect people you don't even know, like fans."
On how the public experience affected her: "It has taught me so much. I felt like I went to sleep as Rihanna and woke up as Britney Spears."
On what she would say to others in a similar situation: "Domestic violence is a big secret. No kid goes around and lets people know their parents fight. Teenage girls can't tell their parents that their boyfriend beat them up. You don't dare let your neighbor know that you fight. It's one of the things we [women] will hide, because it's embarrassing. My story was broadcast all over the world for people to see, and they have followed every step of my recovery. The positive thing that has come out of my situation is that people can learn from that. I want to give as much insight as I can to young women, because I feel like I represent a voice that really isn't heard. Now I can help speak for those women."
What do you think of Rihanna's interviews?
To see more pictures of Rihanna in NYC, just read more.