Photos Of Robbie Williams At The First Meeting Of The Featured Artists' Coalition
Robbie Fights For Downloading Rights
Ahead of his comeback on Comic Relief, Robbie Williams was out in London yesterday to attend the first meeting of the Featured Artists' Coalition. The coalition includes Blur, Kate Nash, Radiohead, KT Tunstall, Billy Bragg, White Lies and Robbie, who will be speaking out to ensure that performers and people like us who buy their music have a voice in the relatively new arena of downloading music. Last night Billy said: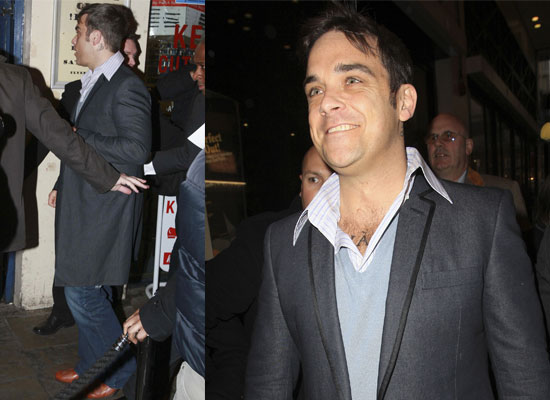 "We have to question the music industry's insistence on criminalising our audiences. They threaten to kick down young people's doors and take their computers when fans swap music with each other online. How is someone under 20 going to hear Billy Bragg these days? They are not going to hear it on Radio 1 or NME. They are going to hear it through peer to peer recommendations. They are just music fans. They don't make a profit from it. We have to focus on where people are actually profiting from our music, places like MySpace selling advertising. It's all rather murky at the moment about where the money is going. We need more transparency in the deals that are made by the record companies. They have put a lockdown on the debate. They are marginalising artists and criminalising fans."
The FAC will also be looking at issues like copyright in the digital age, what do you think about this band of artists coming together to attempt to make a difference to downloading?
To see more photos of Robbie from yesterday, just read more.