Photos Of Robbie Williams Out In Paris In His Pyjamas Carrying A Light Saber
Robbie Lights Up In Paris While Predicting His Future
After premiering his new single "Bodies" a couple of weeks ago, Robbie Williams was in Paris yesterday to promote that and his upcoming album Reality Killed The Video Star. He arrived at the hotel looking smart in a dark blazer, and then amusingly left again wearing pyjamas and carrying a light saber! He was also interviewed on an Australian radio station this week, talking to Dannii Minogue, and mentioned that he might be buying a home in Australia — possibly a farm in the outback. Robbie's been with his girlfriend Ayda Field for three years now and has been discussing how he wants to be a dad, saying he wants to be one: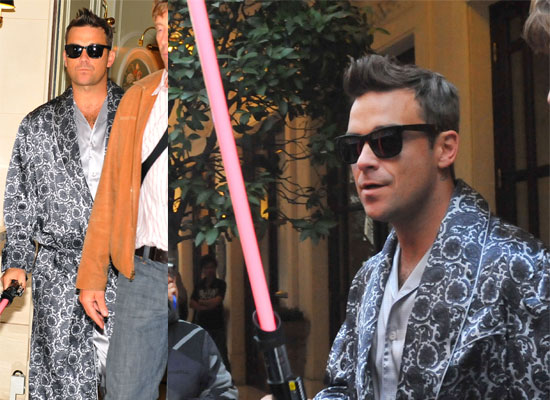 "...in the near future. It's been a slowly, slowly, catchy monkey process. I was against it. I wasn't even going to be in a relationship as far as I could see, then someone special came along and changed that. She is amazing."
It's fantastic to hear him sounding so happy!
To see more photos of Robbie in France, just read more.