Photos Of Robbie Williams At Radio One, Interview With Chris Moyles, Listen To His New Single Bodies and Watch A Video Clip
Listen To Robbie's New Single "Bodies" Plus A Video Clip!
Robbie Williams was in a playful mood as he dropped into the Chris Moyles show on Radio One this morning, saying he was happy to be back and be a popstar again: "It really genuinely feels so good. I get to wear jackets and not eat chocolate and eat porridge every day." He sounded happy as he joked with the team, saying he was feeling "really really good. I've been a food ninja for the last few months... [which means you] cut out everything that you like."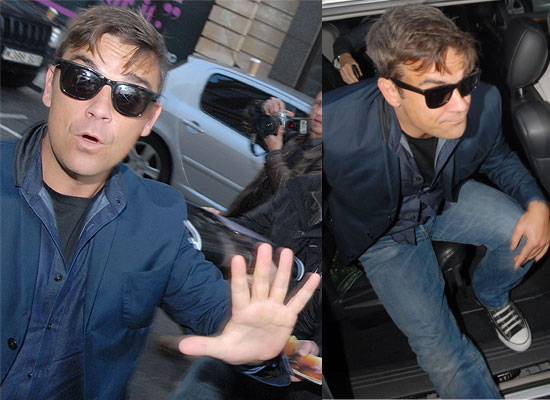 Robbie also spilled on his relationship with Ayda Field who he's been with for "three whole years", and he confessed their embarassing pet names for each other — he calls her "boozy woo woos" and she calls him "tickles a noo noo". He premiered the single "Bodies", saying "be prepared for something cosmic to happen to you while this single is playing" and afterwards Chris declared it "a grower", to Robbie's dismay and amusement.
To listen to the full single, watch a fab clip of the video and to hear more of what Robbie said about Take That and his typical day in LA, just read more.
On Take That:
Robbie also mentioned he's been in a lot of contact with the Take That boys, particularly Gary Barlow, and Chris asked him about the documentary, to which Robbie said: "It was sad when I watched it, I wish I had been there... The production people knew I wouldn't be there. If I'd known that was the set up to the end then I would have gone." He then raved about their live show, saying he fancied doing a reunion and that he was excited about it. Chris asked him if he wanted to start something he couldn't stop, and Robbie responded, "...you've planted a seed of doubt now. I'm not joining Take That then, that's official."
On his typical LA day:
"Wake up, I have a vanilla soy latte from coffee bean... someone brings it to my bedside. I then have porridge with honey, then go on the internet... I go downstairs to watch football, three games in a row, the missus likes football so it's all good..."
On his music:
He also talked about album Reality Killed The Video Star and producer Trevor Horn's contribution to it, "The demos were good to go and he added 30 or 40% on top of that." Finally they discussed Robbie's old writing partner Guy Chambers, and Chris asked about the rumours of bad feeling between them. Robbie responded, "We're mates, there's no bad feeling. It's all good, and I love him and I love his family... I'd write with him again."
It was great to hear Robbie sounding so happy, and if you missed it here's the single "Bodies" in full for you to listen to, let me know what you think!
Plus a clip of the video: