Photos Of Robert Downey Jr Leaving Claridge's Hotel In London
Robert's Sherlock Won't Be Battling Brad
Robert Downey Jr left Claridge's Hotel in London with his suitcase last night, having been staying in the city this week reshooting key scenes for Guy Ritchie's new Sherlock Holmes movie alongside Rachel McAdams and Jude Law. Despite rumours that Brad Pitt was joining the movie as Sherlock's nemesis Moriarty, a studio spokesman denied it, saying: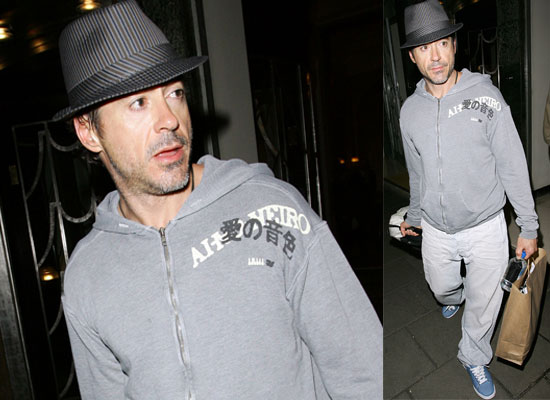 "Brad Pitt is not joining the cast of Sherlock Holmes and we're extremely pleased with the production of the film. In order to complete the movie, we've scheduled a few days on set to shoot a couple of additional scenes, obtain pick-up shots, and perfect some of the visual effects elements, all of which is standard film-making practice."
Thanks to the cast and the trailer, I'm really looking forward to seeing Robert as Sherlock — are you?