Photos Of Robert Pattinson and Emilie De Ravin Filming Remember Me in Manhattan. Twilight Star Michael Welch Concerned About Rob
Robert Pattinson and Emilie De Ravin Remember In The Rain
Robert Pattinson and Emilie De Ravin are continuing to film Remember Me in Manhattan this week, and they were spotted shooting a scene with a huge panda bear soft toy yesterday — it's almost bigger than Emilie is! We spotted Robert looking battered and bloody thanks to make up earlier this week, but he was back to his clear skinned best as he made his way to set with his costar and crew, hiding his face below the peak of his cap. Meanwhile his Twilight costar Michael Welch has spoken out about Robert's fame, saying: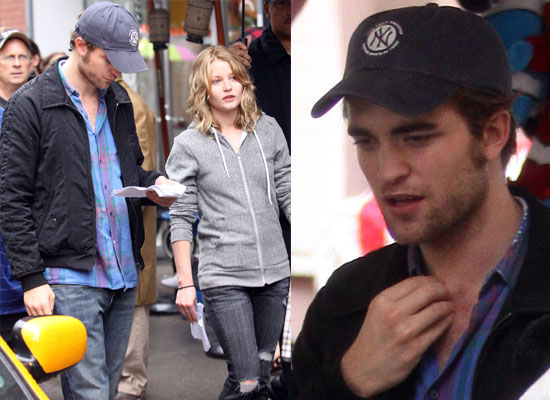 "I don't see how this is sustainable — is this gonna keep going for the rest of his life? I understand it, it's Edward Cullen, I get it. But he's still Rob Pattinson first — he's still his own guy. Is it time to start getting concerned here? He's an actor who likes to prepare out in public — he likes to read a script at a coffee shop where there's people walking by and there's noise; he prepares that way. And he can't really do that anymore. It's tough, man ... I don't know where his life is really headed.... I'm glad he's OK. And as long as people don't start ripping at him and breaking him in two, I think we'll be OK ... I wish him the best, and hope he's going to be all right."
To see more photos of Emilie, Robert and the panda bear in Manhattan, keep on reading!