Photos of Robert Pattinson, Kristen Stewart, Taylor Lautner, Dakota Fanning, Ashley Greene, Kellan Lutz, New Moon LA Premiere
Robert, Taylor and Kristen Join New Moon Stars at LA Premiere
Robert Pattinson, Taylor Lautner and Kristen Stewart dazzled on the red carpet at the New Moon premiere in Los Angeles last night. They were joined by their costars, including Cullens Elizabeth Reaser, Peter Facinelli, Ashley Greene, Kellan Lutz and Jackson Rathbone. After all their promotional tours and interviews, the stars looked happy to finally premiere their film in front of their adoring fans: check out gossip straight from the red carpet via PopUS's twitter!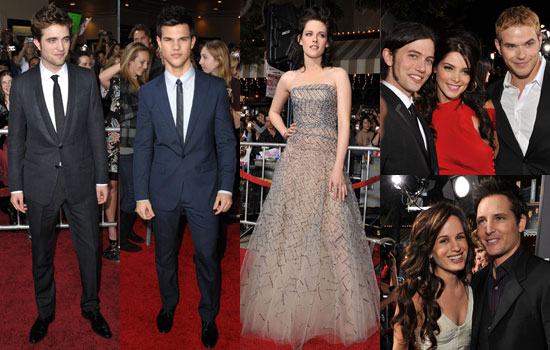 Our very own Brits Jamie Campbell Bower and Michael Sheen represented the Volturi, and were joined by fellow vampire Dakota Fanning, who posed with Kristen and Joan Jett for a reunion of The Runaways crew. While Kristen opted for a full-length Oscar de la Renta dress, Nikki Reed went short as did Dakota in her Valentino number: tell FabUK if you love it or hate it. Robert's Remember Me costar Emilie de Ravin also attended the premiere, as did the woman who began it all, author Stephenie Meyer. Stay tuned for pictures from the after party!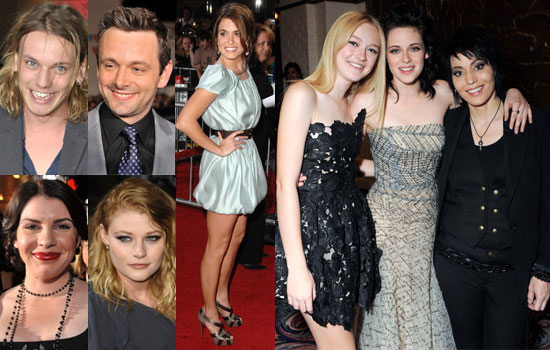 To see LOADS more pictures from the premiere, including 50 Cent, Emma Roberts, Jamie Kennedy, Jennie Garth, Jennifer Love Hewitt, Anna Kendrick, Elle Fanning, Cat Deeley, Jack Huston, Emma Roberts, Charlie Bewley, Chaske Spencer and Edi Gathegi, just read more.
Images include: 50 Cent, Ashley Greene, Dakota Fanning, Elizabeth Reaser, Emma Roberts, Jamie Kennedy, Jennie Garth, Jennifer Love Hewitt, Kellan Lutz, Kristen Stewart, Nikki Reed, Peter Facinelli, Robert Pattinson, Taylor Lautner, Anna Kendrick, Elle Fanning, Emilie de Ravin, Jack Huston, Jackson Rathbone, Jamie Campbell Bower, Michael Sheen, Stephenie Meyer, Emma Roberts, Joan Jett, Charlie Bewley, Chaske Spencer, Cat Deeley, Edi Gathegi