Photos of Robert Pattinson, Kristen Stewart and Taylor Lautner at New Moon Comic-Con Panel
Robert and Kristen Are Reunited at Comic-Con!
After spending time apart in recent months filming different movies, Kristen Stewart and Robert Pattinson were reunited yesterday! They were joined by costar Taylor Lautner for the New Moon press conference at Comic-Con in San Diego. Robert has been hard at work on Remember Me in New York, so he had to fly from coast to coast and get in to Twilight mode: check out exclusive footage of Rob at JFK over at our new daily show, PopSugar Rush. Our US editors got to attend the press conference in person and saw two new clips from the film — so jealous! The actors chatted about their characters and the fan response, and Rob said he'd consider comedic roles, but added: "I don't know if I'm particularly funny. One of my legs is shorter than the other one, so it makes everything look awkward. I can look like an idiot, but I don't know if I can be witty." For a self-proclaimed awkward idiot, Rob's not doing too badly!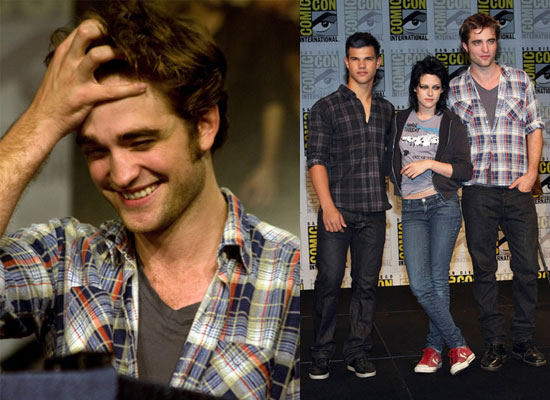 Tons more pictures of Rob, Kristen and Taylor, so just read more.