Photos of Russell Brand Arriving at Heathrow Airport
Russell Brand's Back on British Land Facing Criticism Again
It looks like LA-living is good for Russell Brand's health, as the comedian appeared tanned and relaxed as he arrived at Heathrow Airport yesterday, after reportedly partying with Ricky Hatton and Noel Gallagher at the Playboy bar in Las Vegas on Sunday. He may not be leading the pack as your favourite British export of 2008, but he was rewarded for his comedy routines with the award for Best Live Stand-Up act at the British Comedy Awards over the weekend. This accolade hasn't gone without complaint though, with Andrew Sachs telling The Daily Telegraph: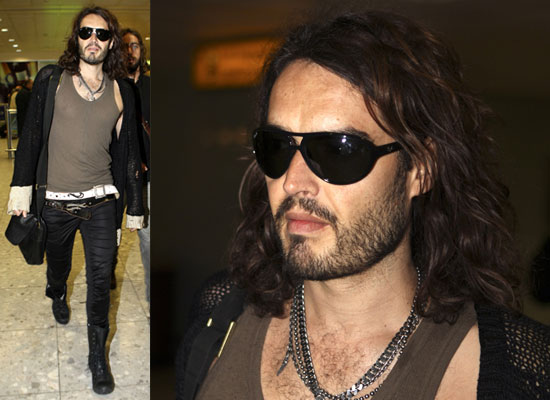 "I don't really understand why he won it after all those people complained. It's not my style of comedy. I can't appreciate his 'magic' if magic it is. It doesn't get through to me as comic genius as such it is. It baffles me as to why he is so popular. There's no style or structure to his work. He speaks off the top of his head. It's hit or miss – miss for me I'm afraid. It's sad to see that this is popular with the executives."
What do you think of Russell's win? Do you agree with Andrew?