Photos of Russell Brand at Articles of Faith Book Signing in London
Brand's Back with Another Booky Wook
Russell Brand was at the Prince Charles Cinema in London yesterday to promote his new book Articles of Faith, which brings together his football columns for The Guardian and follows on from the first collection, Irons in the Fire. He's becoming quite the wordsmith these days, what with his autobiography, My Booky Wook, and his £1.8million two-book deal. It's always nice to have Russell back on our shores, and after the death threats he received following his MTV VMAs appearance, I expect he's happy to be home too. With a new series of Ponderland starting next Thursday, and the DVD of series one out in November, we'll have lots of Russell on our screens.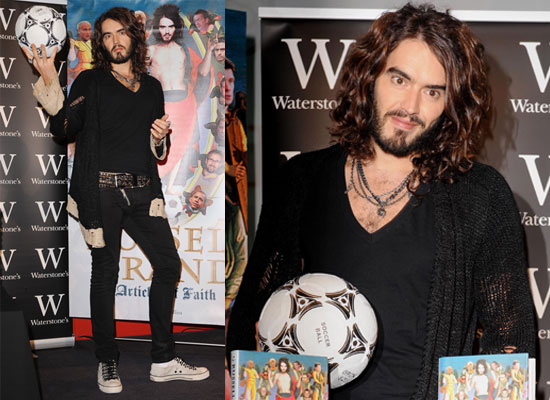 To read the full synopsis, and see more pictures of Russell, just read more.
This collection of Russell Brand's columns for The Guardian not only follows the drama and tumult of the domestic and international football season but also a season in the life of one of our most celebrated comic talents. Brand chronicles events both on and off the pitch as he travels between Upton Park and Hollywood. In his literary riffings, football legends and newfound heroes brush shoulders with a pantheon of cultural icons. Matches are won and lost, Brand's faith in his beloved West Ham tested, while the palette of company he keeps stretches from Morrissey to Gallagher to Gascoigne and back again. Managerial manoeuvres at Wigan are discussed in reference to Joe Orton and the mysteries of the souks. The departure of Mourinho sparks reminisces of the shapely arse of a previous girlfriend. Love blossoms in the unlikely form of Paolo DiCanio. Arsenal's fluidity and purpose brings to mind yogic coitus of Sting and Trudie Styler. And the fate of his beloved West Ham is seen in parallel with the workings of his legendary libido. 'On what little things does happiness depend' he quotes Oscar Wilde - in football as in life.