Photos Of Russell Brand At Burbank Airport, Talking About Preferring Boxing To Football
Russell Favours Footie Over Boxing
Russell Brand was spotted at Burbank Airport waiting to board a plane yesterday in his testosterousers, laughing with friends and chatting on his mobile phone outside the terminal. Russell recently attended the boxing match that Ricky Hatton lost at the MGM Grand in Las Vegas, and has described his experience in his column for the Guardian, describing why he prefers his passion of football over the more violent sport. Russell writes: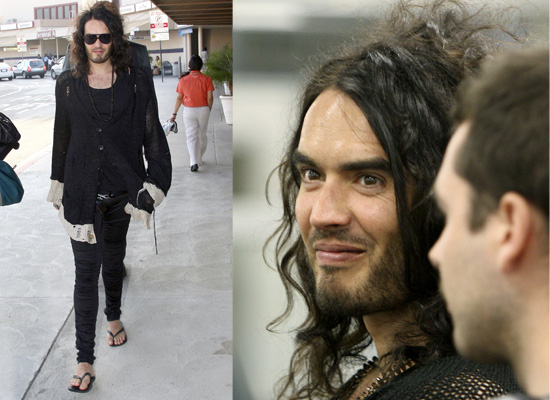 I don't think I'll go to boxing again. I'm not suggesting it be banned or that nothing positive comes from it because I know people whose lives have been positively touched by the sport. But I do think it celebrates aspects of our nature which ought be handled with caution and respect because we are ultimately animals and if we do not regard that then, oddly, our humanity is compromised. That is why I love football – unifying, exciting, beautiful, significantly less violent (with one or two obvious exceptions) football. When football is played by the rules the only people who get hurt are the fans.
Looks like when it comes to sport, although he's happy to try new things, Russell definitely knows what he likes.