Photos of Russell Brand, Details Of His Twitter Updates Including Who He's Sleeping With!
Russell Steps Out In A Stripy Sweater, Sleeps With Morrissey
Russell Brand stepped out in a slightly different style yesterday, forgoing his usual uniform of completely black separates for a stripy jumper, a big hat to hide all that hair, plus his old favourites the Sass and Bide leggings with big boots. Please Russell, I get that they're comfortable, but enough of the leggings already! As I told you earlier this week, Russell now has a twitter account, and his responses to others' questions have been making me giggle this morning. Still, we know he's not sleeping alone, as he told us last night: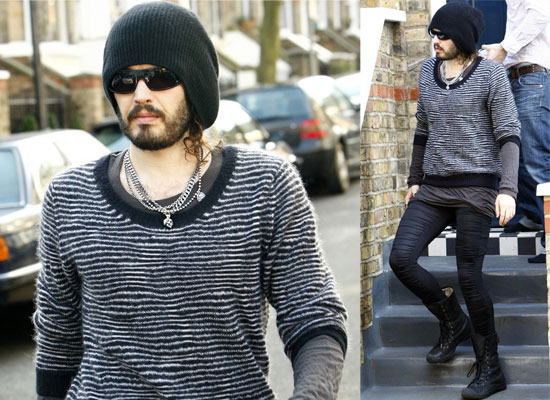 i'm in bed with my cat morrissey. he'd be furious if he knew i was writing this. he conveys affection by milking me, sans consent. grim.
He also manages to use the small amount of characters per tweet to use words like "loquacious". His is definitely a unique twitter account to follow, that's for sure — always entertaining, just like mine!