Photos of Russell Brand and Jonathan Ross Who Played a Prank on Andrew Sachs Which Caused Controversy in 2008 Headlines
Biggest Headlines of 2008: "Manuelgate"
As part of our look back at 2008, we're recalling the biggest headlines of the year. We hope you enjoy joining us as we remember those stories that hit the headlines in a big way. We'll reveal more throughout December, so stay tuned.
Russell Brand caused quite a stir with his MTV VMA hosting in September, but that was nothing compared the to furore caused by his prank call with Jonathan Ross in October. During Russell's prerecorded BBC Radio 2 show broadcast on 18 October, he and Jonathan phoned Andrew Sachs (best known as Manuel in Fawlty Towers) four times, leaving lewd messages about Andrew's granddaughter on his voicemail. It wasn't picked up until Monday 27th, when the media started reporting it, and very quickly 1,500 people (including MPs) has made a complaint.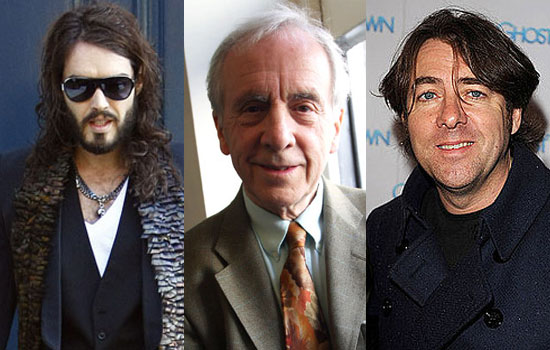 Within two days, the BBC suspended Russell and Jonathan and took all their shows off air during the BBC's investigation. The number of complaints swelled to 10,000, and Prime Minister Gordon Brown made his opinion known, saying the prank was "clearly inappropriate and unacceptable behaviour".
Later that day, Russell Brand announced his resignation from the BBC, saying: "I have apologised to Andrew Sachs... and he has graciously accepted. As I only do the radio show to make people laugh I've decided that given the subsequent coverage I will stop doing the show." Jonathan also offered a "full apology". It was the topic on everyone's lips at the National TV Awards that evening, and when I chatted with Davina McCall she, said: "I'm slightly inclined to forgive them — they're comedians — but I think they need to do a bit more of a heartfelt apology and then I'm over it".
To remember what happened next, just read more.
The following day, the number of complaints had risen to 27,000. Ofcom launched its own investigation, and the BBC's director general met with the corporation's governing body. That evening it was announced that Jonathan Ross was suspended for 12 weeks without pay. Radio 2 Controller, Lesley Douglas, resigned from her post, apologising to Andrew's family and saying she took responsibility for what happened.
Noel Gallagher publicly supported Russell, while Andrew's granddaughter, Georgina Baillie, sold her story and said Russell was "a disappointment" in bed. By the end of the week, the BBC said it was hoping to draw a line under the furore. The following week, however, Georgina did an about turn and called for Russell and Jonathan to be reinstated, saying "it's a shame that it got out of hand".
Russell took some time out in the US before speaking out, saying: "I did the daft thing, and that I take responsibility for. How it's been repackaged ... I'm not at all responsible for that". Jonathan's return to the BBC still hung in the balance, but both Russell and Jonathan were nominated for British Comedy Awards, although Jonathan couldn't take his usual position as host. Russell was named Best Stand-Up act at the ceremony on 8 December, and dedicated his award to Jonathan. This didn't impress Andrew, however, who said he couldn't understand why Russell won.
All this controversy earned Russell a place in my most scandalous British celeb of 2008 poll. Let's hope 2009 is a more relaxed year for all concerned.
Rob Morrison/Nick Banks/BigPicturesPhoto.com, Source and Source