Photos of Russell Brand in Leggings in London
Compliments Keep on Coming for "Sweet Kid" Russell Brand
Russell Brand dressed in his usual all-black outfit and those Sass & Bide's Rat Leggings that he loves as he returned to his Hampstead home carrying a signed West Ham football and a copy of the Big Issue yesterday. It's been a tough few months for Russell, what with the Manuelgate scandal, but his pals across the pond have been publicly supporting him. Having been called an "angel" by Bedtime Stories director Adam Shankman, Russell's now been called "a sweet kid" by his costar Adam Sandler, who's been chatting with Radio One Newsbeat. Here are the highlights: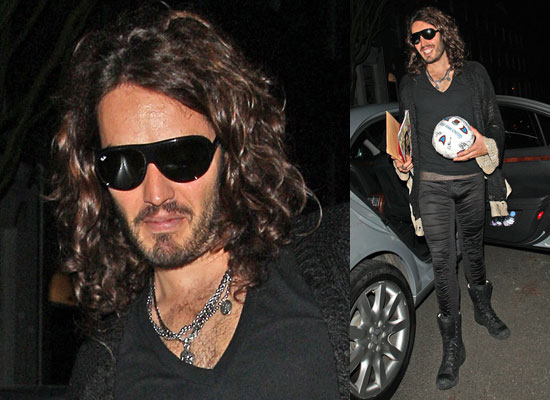 On Russell and Manuelgate: "I know he wishes that stuff never happened. He's a sweet kid and it's time to move on I think."
On producing Russell's next film: "That's why I'm saying, It's time to move on, so when I produce his next movie it makes more money!"
To find out what else Adam said about Russell, and to see more pics, read more.
On whether he's responsible for Russell's Hollywood career: "Not at all. He would have done it and I'm just happy he's in the movie. All I did for Russell was tell people he's funny and that's about it. But people already knew that."
On filming with Russell: "He ad-libbed a million things and everything was really sharp and funny and we all laughed at whatever Russell had to do. He's a silly guy."
It's great to see Adam giving Russell so much love. If you've loved Russell this year you've still got time to vote for him as your favourite British male of 2008!