Photos of Russell Brand Out With David Walliams, Leaving With Two Women
Russell Brand Arrives With David, Departs With a Double Date
Russell Brand and David Walliams partied together at a string of London nightspots yesterday, going from Sketch to the Funky Buddha's Chinese New Year party before arriving at Akon's party at No. 5 Cavendish Place. While David went home alone, Russell left with two scantily clad women, having reportedly spent some time with Miss Great Britain at the weekend. Perhaps Russell's just getting it all out of his system once and for all, as he's told American GQ magazine about his future celibacy plans: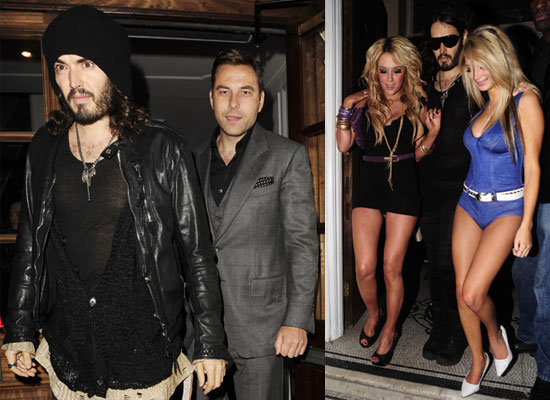 "If I'm to find any true happiness I have to devote myself to something bigger than my own ego. I'm really getting tired of materialism. I don't reckon I've got more than two or three years. I've burned out drugs. I'm burning out sex. I don't even know what I'm doing yet. I'm not ready. I've got to be in a position where they can't go, 'Didn't he f**k* that stripper? Didn't he go to that lap-dancing club?' There can't be any of that around. That's all got to go - until I'm in a position where I can say, 'Look I'm celibate, I'm a vegan. All I do is meditate, come out and do stand-up and make films.'"
It doesn't look like that's happening any time soon, but thanks to his new hugely popular Twitter account, we'll be able to follow rustyrockets' future sex-free moves.