Photos Of Russell Brand Out Shopping In LA, He's Offered Advice To 2009 MTV Movie Awards Host Andy Samberg
Russell Offers Andy Some MTV Movie Awards Hosting Advice!
Russell Brand was out in LA yesterday, doing a little shopping with a blonde female companion in the Californian sunshine. Dressed all in black and wearing flip flops, Russell hauled a big bag out of the store before driving away with his ladyfriend. The MTV Movie Awards are coming up at the end of May and — as last year's host — Russell has had some words of advice for new host, comedian Andy Samberg. He advised: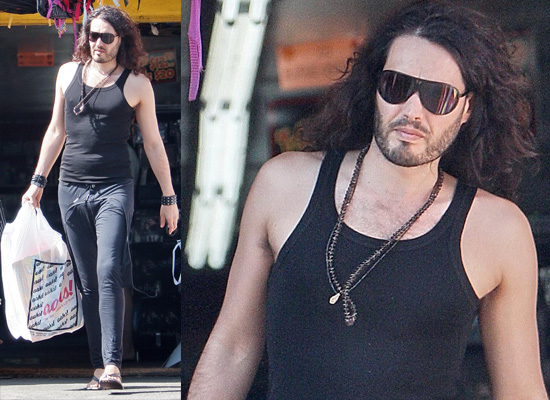 "Do not criticise George W. Bush, you will receive death threats. Do not jokingly criticise the Jonas Brothers. You will receive less-threatening death threats."
Sounds like Russell learned a lot from his foray into award show hosting this time last year!