Photos Of Russell Brand With Protestors at G20 Summit In Central London
Russell Brand Joins The Protestors At G20 Summit
Russell Brand took to the streets with protestors in Central London today, where world leaders including Gordon Brown, Nicolas Sarkozy and Barack Obama are in talks about the financial crisis. The throngs of people are protesting about the economic downturn, the lack of progress on tackling climate change, and the war. Russell said: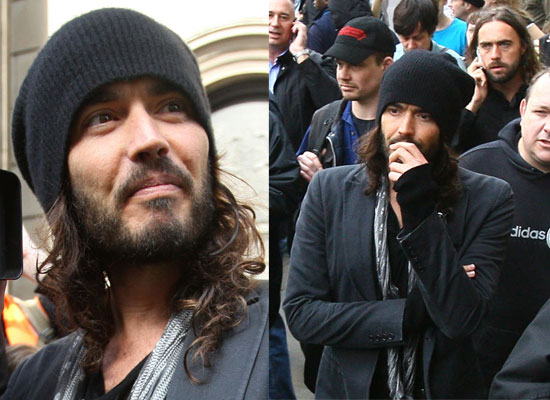 "It is really interesting to see what happens when everyone gets together. There is a great sense of community. I always come to these kind of things, I'm very interested. I am interested in learning and interested in why these people have come to this. I wonder what alternatives there are and I think it makes people cogent of them. I think it's also very beautiful."
In an effort to not draw too much attention to himself, Russell tried to keep a low profile, with his scarf covering his face before his identity was revealed. Do you think it's worthwhile when celebrities show their faces at rallies like this one? Let me know.
To see more photos of Russell at today's protests, just read more.