Photos of Russell Brand In Shorts After a Workout in London, Katy Perry Talks About Her Relationship with Russell
Russell Ponders Reducing His Barnet, Katy Keeps Things Quiet
Russell Brand was spotted out in London in his workout gear today, showing his legs off in shorts and socks! For his upcoming role in a remake of Arthur, Russell looks set to chop his famed locks, but he's taking it in his stride, saying: "You have to move on. I have dreams of my hair being short and I wake up in a Samson-like panic, but I think I'm ready for transformation." Meanwhile MTV EMAs host Katy Perry has been coy about their fledgling relationship today, saying: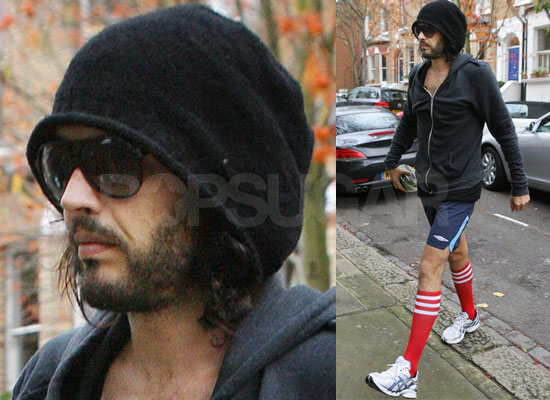 "The wonderful thing is we both have our own kind of separate talents, careers and lives and we really respect each other. I think that's really important... (But) we like to kind of keep this as our special thing."
I was lucky enough to see Russell perform a small warmup gig for his Royal Albert Hall show this weekend in Islington earlier this week and when an audience member mentioned her name, he said something very similar. Adorable!