Photos of Russell Brand Who Is More Popular Than Adam Sandler
Popular Russell's Still Criticising Politicians Through Twitter
Russell Brand donned his "Testosterousers" yet again for a trip to Shoreditch House Restaurant in London yesterday. Ofcom's fine is continuing to create tension between Russell and politicians: after posting a comment on Twitter saying Jack Straw should be fined for his role in the Iraq war, Russell's been at it again, this time tweeting: "I have decided to pay the Ofcom fine. I'll put it on my expense account. Oh no, I don't have one because I'm a citizen not a corrupt MP." While he's been busy engaging in a war of words via social media, his popularity has been rising in America, even eclipsing his Bedtime Stories costar Adam Sandler when it came to a test screening among American children. Adam said: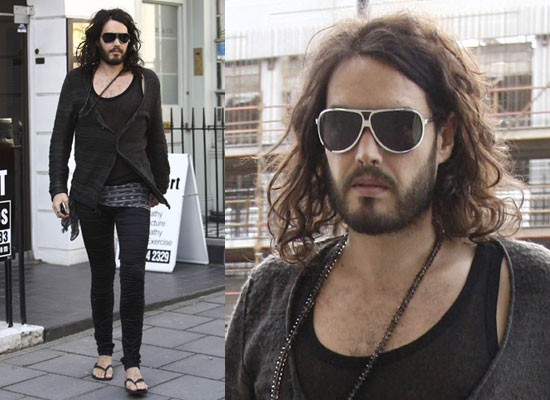 "We did test screenings in America and I got a high score and I was high five-ing my friends. I was screaming over and over: 'They love me, the children think I am wonderful!' Then I saw Russell's score and he got some giant 96 and I got a 91. After I got past being hurt I was very happy for Russell. The children of America have embraced the long and lean and handsome Russell Brand."
Are you surprised that Russell is more popular than Adam?