Photos of SAG Awards Show and Press Room With Full List of Winners
Actors Are Crowned Winners at SAG Awards Show
After the stars walked the red carpet they took their seats for the show to find out who won what at the SAG Awards in LA on Saturday. George Clooney was on presenting duty after hosting the Haiti telethon on Friday night, and several members of the cast of Nine including Marion Cotillard, Kate Hudson, Nicole Kidman and Penelope Cruz also took to the stage. Sandra Bullock won the Outstanding Performance by a Female Actor in a Lead Role accolade and also presented Betty White with a Lifetime Achievement award, while Gabourey Sidibe congratulated her Precious costar Mo'Nique on her Supporting Actress win. The three other film awards went to Outstanding Performance by a Male Actor in a Lead Role Jeff Bridges, Supporting Actor Christoph Waltz and Cast of a Motion Picture Inglourious Basterds.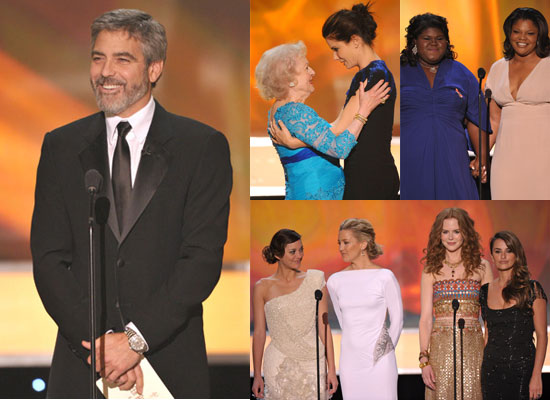 Stars of the small screen were also honoured at the ceremony, with Michael C. Hall and Julianna Margulies winning the acting gongs in the Outstanding Performance in a Drama Series categories. Alec Baldwin and Tina Fey both won the the Comedy Series acting categories for their performances in 30 Rock, while the Drama Ensemble award went to the Mad Men cast and the Comedy Ensemble gong was picked up by the Glee gang and kissed by Lea Michele. Kevin Bacon and Drew Barrymore were awarded for their acting in the Television Movie or Miniseries categories, while 24 and Star Trek got gongs for their stunts. My girls Buzz and Pop were tweeting from the event so check out their press room interviews!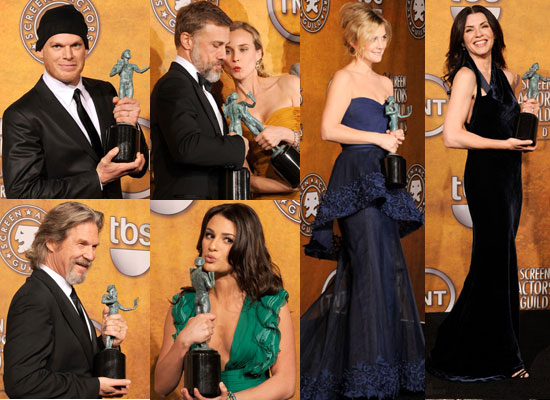 To see the full list of winners and more photos from the show and press room, just read more.
MOVIES
OUTSTANDING PERFORMANCE BY A MALE ACTOR IN A LEADING ROLE
Jeff Bridges, Crazy Heart
OUTSTANDING PERFORMANCE BY A FEMALE ACTOR IN A LEADING ROLE
Sandra Bullock, The Blind Side
OUTSTANDING PERFORMANCE BY A MALE ACTOR IN A SUPPORTING ROLE
Christoph Waltz, Inglourious Basterds
OUTSTANDING PERFORMANCE BY A FEMALE ACTOR IN A SUPPORTING ROLE
Mo'Nique, Precious
OUTSTANDING PERFORMANCE BY A CAST IN A MOTION PICTURE
Inglourious Basterds

TELEVISION
OUTSTANDING PERFORMANCE BY A MALE ACTOR IN A DRAMA SERIES
Michael C. Hall, Dexter
OUTSTANDING PERFORMANCE BY A FEMALE ACTOR IN A DRAMA SERIES
Julianna Margulies, The Good Wife
OUTSTANDING PERFORMANCE BY A MALE ACTOR IN A COMEDY SERIES
Alec Baldwin, 30 Rock
OUTSTANDING PERFORMANCE BY A FEMALE ACTOR IN A COMEDY SERIES
Tina Fey, 30 Rock
OUTSTANDING PERFORMANCE BY AN ENSEMBLE IN A DRAMA SERIES
Mad Men
OUTSTANDING PERFORMANCE BY AN ENSEMBLE IN A COMEDY SERIES
Glee
OUTSTANDING PERFORMANCE BY A MALE ACTOR IN A TELEVISION MOVIE OR MINISERIES
Kevin Bacon, Taking Chance
OUTSTANDING PERFORMANCE BY A FEMALE ACTOR IN A TELEVISION MOVIE OR MINISERIES
Drew Barrymore, Grey Gardens
STUNT ENSEMBLES
OUTSTANDING PERFORMANCE BY A STUNT ENSEMBLE IN A MOTION PICTURE
Star Trek
OUTSTANDING PERFORMANCE BY A STUNT ENSEMBLE IN A TELEVISION SERIES
24
Images include: Michael C Hall, Julianna Margulies, Alec Baldwin, Tina Fey, Kevin Bacon, Drew Barrymore, George Clooney, Sandra Bullock, Betty White, Gabourey Sidibe, Mo'Nique, Marion Cotillard, Kate Hudson, Nicole Kidman, Penelope Cruz, Jeff Bridges, Christoph Waltz, Diane Kruger, Chris Colfer, Matthew Morrison, Iqbal Theba, Kevin McHale, Jessalyn Gilsig, Lea Michele, Jayma Mays, Jenna Ushkowitz, Amber Riley, Dianna Agron, Naya Rivera, Mark Salling, Heather Morris, Justin Timberlake, Morgan Freeman, Carey Mulligan, Meryl Streep, Felicity Huffman, Meryl Streep, Christina Applegate, Chris O'Donnell