Photos Of Samuel L Jackson, Scarlett Johansson, Eva Mendes at The Spirit Launch Party In London
Scarlett, Eva and Samuel Have Spirit!
Scarlett Johansson, Eva Mendes and Samuel L Jackson were in London last night to celebrate their upcoming movie The Spirit at the Old Post Office, before the world premiere in New York which takes place in a few days time. Scarlett and Eva looked stunning in their bright dresses on the red carpet, while Samuel L Jackson stuck to his basic black outfit and trademark hat! While posing Eva talked about how she stays comfortable when showing skin in the movie, she said: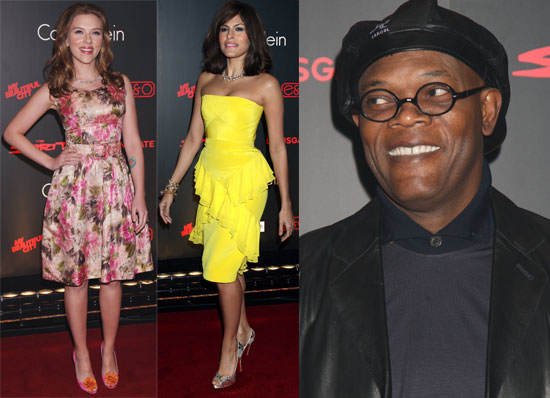 "It's so fun because it's not me. The minute I think it's me I wig out but it's so not me. I'm playing a character so if I drop my towel and show my bum it's not my bum."
Hmm... I'm not sure that argument would convince many other people to drop their towel! The Spirit is released in the UK on January 1.
To see more of the stars on the red carpet, just read more.
See lots more pictures over at InStyle UK.