Photos Of Sarah Jessica Parker as Carrie, Cynthia Nixon, Kim Cattrall and Kristin Davis In 80s Gear On Sex And The City 2 Set
SJP, Kristin, Cynthia and Kim Go '80s For SATC2!
Earlier this week we saw Sarah Jessica Parker, Kristin Davis, Kim Cattrall and Cynthia Nixon reunited on the set of Sex and the City 2 looking super-stylish. Yesterday, however, they were all showing off some very different looks in Manhattan as their wardrobe was injected with a whole lot of '80s! Kim certainly seemed to have fun in her scene as she swore at a motorist — FabUK wants to know if you love or hate her outfit? Cynthia was looking rather dowdy as Miranda, Kristin's Charlotte was as preppy as ever, and SJP was channelling Madonna in her outfit as Carrie. This must have been a lot of fun to film — I can't wait to see it all up on the big screen! What do you think of their '80s looks?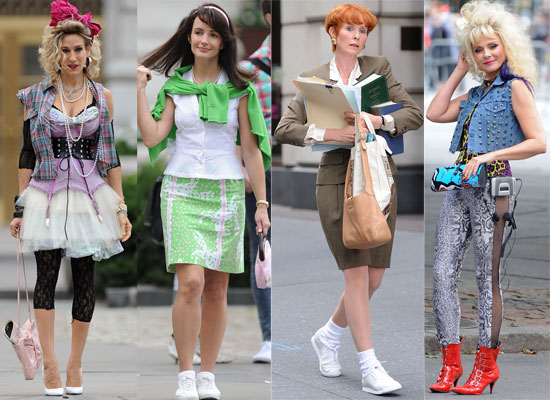 To see more really fun photos from the set of the movie, just read more.