Photos of Scarlett Johansson on Harper's Bazaar Cover January 2010 Issue Interview With U2's Bono About RED Campaign and Clothes 2009-12-02 05:00:00
Scarlett Unleashes Her Lioness For Bono and Harper's Bazaar
Scarlett Johansson has posed in (PRODUCT) RED clothes and accessories for a ten page fashion shoot in the January issue of Harper's Bazaar, and has spoken about her support of the (RED) campaign. She reveals the impact her trips to Africa have had on her life since becoming the ambassador of the campaign three years ago, and discusses the strength of women in her joint interview with Bono, in which he calls her a lioness! Here are highlights: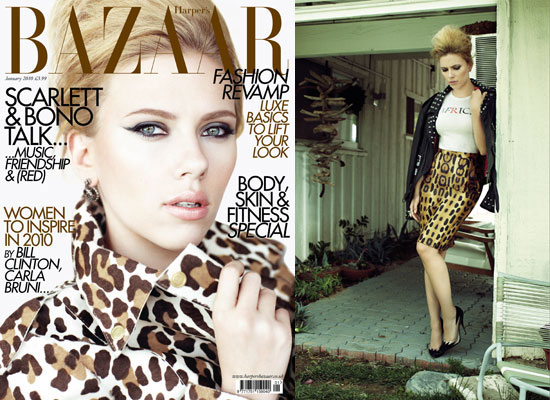 On one of her campaign trips to Africa: "In Rwanda, I'd been warned that we might see disturbing things, and that some people might be close to death. So I had a bit of apprehension walking into the first hospital. But I soon realised that you're standing before people. They might be very ill, but they're just people like everyone else. Suddenly you're not aware of how you're feeling, how you're going to look. If you let your guard down and stop being aware of yourself, you're able to really connect with people and listen while they tell their stories."
On the strength of women: "I've always found that women have power in numbers. We draw strength from the support of other women. In some cultures, girls can be seen as a burden to a family because of the need to pay out a dowry when they marry, and they are vulnerable to all kinds of abuse. When I visited shelters for female victims of violence in India, I found that a lot of the women had been raped, even at home. That's still very taboo. Even in the United States, it's hard to talk about being sexually abused by your husband or your boyfriend. So being able to find solace in support groups makes a huge difference."
On her newfound appreciation of the simple things: "You do gain a certain perspective when you see how people get by with so little and how they're just happy to have simple things like a well with clean water nearby. I felt lucky just to live somewhere that has running water. Suddenly a toilet seems such a luxury. It's miraculous! You really are thankful for the small things."
To find out what Bono had to say about Scarlett being his lioness, just read more.


Bono on Scarlett being an ambassador for (RED): "[US music mogul] Andre Harrell said to Bobby Shriver, who founded (RED) with me: 'You and Bono need to be like the lions of Africa, just go sit in the shade because we're all getting sick of the sight of you. What you really need is some lioness energy!' He was being playful, but it's true – I think women talk about these issues with more potency. I love your [Scarlett's] tenderness towards the people you met, and you don't even have kids yet."
Bono on his changed priorities: "I don't give a s**t how things look anymore. I just want to get the results, get the cheque signed. If it takes me looking like a totally unhip white messiah, I don't care. You do whatever it takes to get people what they need to survive. For me, it was coming home that was the hardest. Coming back to my privileged life. I used to find that really difficult. It's hard when you find yourself in such a harsh juxtaposition with somebody who's fighting for their life. It used to make me feel more awkward than it does now, being this rich rock star next to a starving African."
The full interview appears in the January issue of Harper's Bazaar, on sale Mon. 7 Dec.