Photos of Sexy Sugababes in Bikinis on Barbados Beach, Amelle Berrabah Heidi Rande and Jade Ewen in Bikinis on Holiday
Sugababes Strip Down To Bikinis in Barbados
After singing "Santa Baby" on Christmas Top of the Pops, the Sugababes have jetted off to Barbados to leave the cold weather of Britain behind! The girls certainly don't seem to have overindulged over Xmas, with all three showing off their enviable figures as they sunbathed and laughed as they walked along the beach together. Heidi Range and Amelle Berrabah have spoken out to correct rumours about the split which led to Keisha Buchanan being replaced by Jade Ewen, saying that they quit the band originally, not Keisha. They said: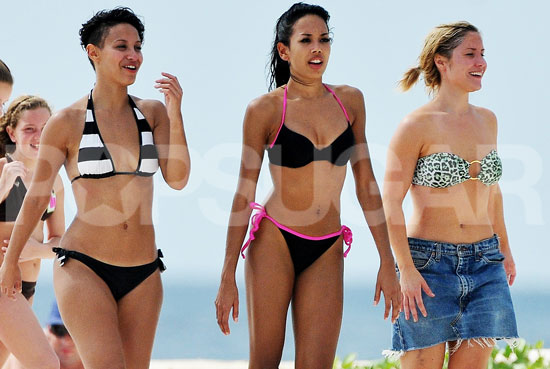 "It's flattering that people are so interested [in the split], but it's hard when things that aren't true are written about you. When the whole line-up changed, it was me and Amelle that left the band – Keisha was never kicked out. We risked our careers. We [just] couldn't take the situation anymore."
It looks like they've left their troubles behind them, and they're enjoying a fun holiday before they focus on 2010!
To see more photos of the 'babes in bikinis, just read more.