Photos of Shirtless Daniel Craig on Holiday in the Caribbean with Satsuki Mitchell in a Bikini
Shirtless Daniel Craig Cuts a Fine Figure on the Sand
Daniel Craig spent the festive season soaking up the Caribbean sun and snacking on crisps with his girlfriend Satsuki Mitchell and pals in St Barths. He certainly looks at home lazing on the beach, and when asked about the next James Bond film he told MoviesOnline: "I want to lie on a beach for the first half hour of the next movie, drinking a cocktail", but added that he probably won't be asked to do a beach picture, saying "I can't surf. I can lie down, but I can't surf". Daniel may not be quite as ripped as when he strode out of the sea in Casino Royale, but he's still looking pretty fine, and certainly more appealing than that waxwork. If Daniel's been your number one in 2008, you've still got time to vote for him as your favourite British male of the year!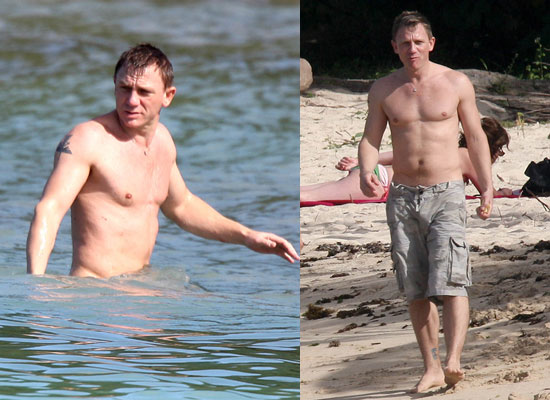 You can see more pictures of shirtless hotties in my Best of 2008 slideshow, and you can see Daniel on the big screen when Defiance hits cinemas on 9 Jan.
To see 20 pictures of shirtless Daniel and bikini-ed Satsuki, just read more.