Photos of Shirtless David Beckham With Naked Torso Playing For LA Galaxy Against DC United om Washington DC
Shirtless David Beckham Might Have a Secret Get-Out Clause
David Beckham stripped off his shirt at the end of LA Galaxy's 0-0 match against DC United at RFK Stadium in Washington DC on Saturday. There's still time to cast your vote on whether you think shirtless David is sexy: I'll be announcing your favourite shirtless Brits soon! Becks was back on the pitch after his red card last weekend, amidst reports that his contract with LA Galaxy has a secret get-out clause. Whether David takes advantage of the clause remains to be seen, but for the time being he's happy with the Galaxy's recent performance, saying: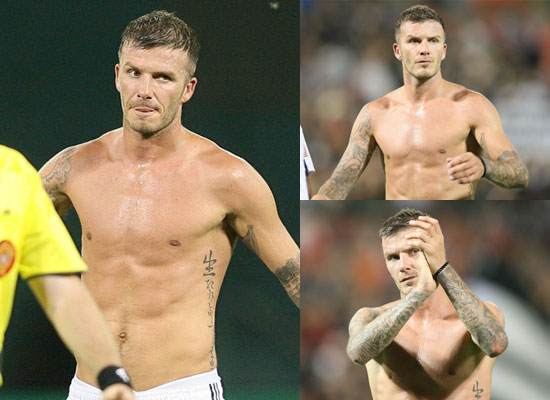 "We are happy with the four points out of two games more than anything. You could not ask for any more effort from the players, with traveling, and playing two games in a short space of time, so it's been a good trip."
Do you think David will take advantage of his get-out clause, or will he stay at the Galaxy?
To see more pictures of David and his naked torso, just read more.