Photos of Shirtless Prince Harry with Chelsy Davy in Bikini on Holiday in Mauritius
Shirtless Prince Harry Hugs His Chelsy on Hot Holiday
After spending Christmas Day with the royals in Sandringham, Prince Harry jetted out to Mauritius at the weekend to join Chelsy Davy and her family to see in the New Year. Harry showed off his toned physique as he got shirtless on the beach today and sweetly cuddled up to his girlfriend, who may well become his fiancée in 2009. The couple looked happy and relaxed, although rumour has it Chelsy is planning to leave the UK and return to South Africa next year because of homesickness.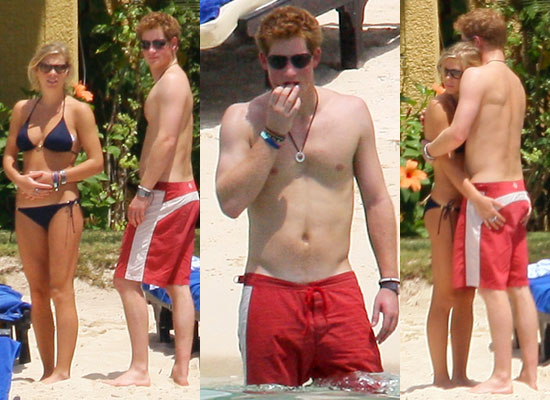 The tropical setting is a far cry from the beginning of the year for the Prince, who was secretly serving on the front line in Afghanistan. After an action-packed year it's no wonder Harry wants to kick back and let off some steam, and reportedly drink beer out of a hosepipe before he has to quit alcohol in mid-Jan. when he begins an intensive helicopter pilot course. It looks like a gorgeous place to see in 2009, right?
To see more cute pictures of shirtless Harry and Chelsy in her bikini, just read more.