Photos of Sienna Miller at Boss Orange Fashion Show at Mercedes-Benz Fashion Week in Berlin
Fashion Loving Sienna's Not Bitter About Robin Hood
Sienna Miller was in Berlin at the end of this week for Spring Berlin Fashion Week. After arriving at Hotel de Rome in sunnies and a comfy cardigan with wavy hair, Sienna got the straighteners out to attend the Boss Orange Fashion Show. Justin Timberlake and Diane Kruger also made the trip to Germany for the fashion shows. Sienna recently revealed Jude Law doesn't want her to talk about him, but the former couple will no doubt bump into each other this Autumn, as they'll both be performing on Broadway. She's not bitter about Ridley Scott's decision to replace her with Cate Blanchett in Robin Hood, however, saying: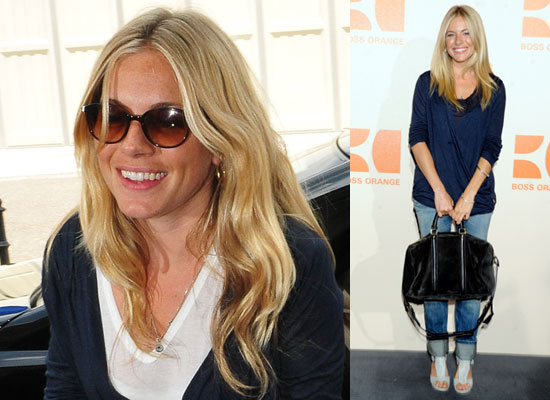 "Cate's 10 years older than me, which is more suitable for the script. The script kept changing and evolving to the point where I was no longer appropriate for it. If they'd recast with Keira Knightley I'd have been heartbroken but they've gone for something different - and better in my opinion. If I had the choice between Cate Blanchett and me I'd go for Cate Blanchett. There were several people supposed to be doing the film who no longer are but because it's me it becomes this enormous drama - I think it's a Sienna thing! There's just a vendetta against... I don't know."
Do you think there's a vendetta against Sienna?
More pictures of Sienna, so just read more.