Photos of Sienna Miller Walking Dog in New York, Savannah Miller Says Sienna Won't Get Back With Jude Law
Ambassador Sienna Won't Be Reuniting With Jude
Sienna Miller wore her favourite hooded coat as she took her pooch Bess for a walk in New York yesterday. She was without her NY-based buddies and it doesn't sound like she'll be taking romantic walks with her ex Jude Law any time soon, as Sienna's sister Savannah has responded to rumours that Sienna and Jude are getting back together by saying: "I think that would be a completely ridiculous assumption considering the way that man has conducted himself recently. That's all I'm saying." Amidst the rumours about her personal life, Sienna is focusing on her acting and charity work, and has just been appointed Ambassador for the International Medical Corps to help raise awareness of vulnerable populations in the Democratic Republic of Congo, which she visited earlier in the year. Sienna said: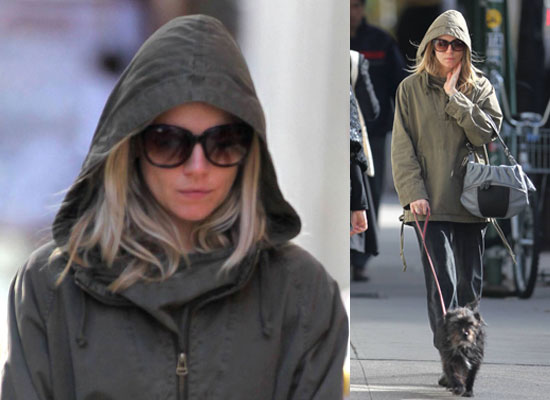 "After seeing International Medical Corps' courageous work up-close I was determined to become more involved, devoting my energies and my name to bring more attention to the challenges they face around the world. These people work in the toughest conditions imaginable, saving lives every single day, and helping bring self-reliance and hope. The question for me was, how could I not take action?"
It's great to see celebrities like Sienna getting involved with such worthwhile causes.