Photos of St Trinian's 2 Premiere Sarah Harding, Gemma Arterton, Talulah Riley, Tamsin Egerton, Kimberley Walsh, Nicola Roberts
Sarah Harding Steals the Show at St Trinian's Sequel Premiere
It's certainly Sarah Harding's time to shine this week, as Cosmopolitan's January cover girl was the star of the show at last night's world premiere of St Trinian's 2: The Legend of Fritton's Gold in London's Leicester Square. She was joined by costars Gemma Arterton, Talulah Riley and Tamsin Egerton on the red carpet, and her Girls Aloud band mates Kimberley Walsh and Nicola Roberts also came out to support Sarah in her latest acting endeavour. Not forgetting her main career, Sarah also recorded three songs for the soundtrack, but she's anxious about how the film will be received, saying: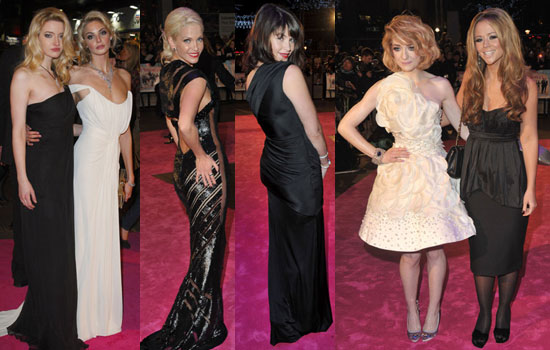 "I'm nervous about everyone out there, and the critics seeing it, more than anything - it's a really, really great amount of pressure. I think because people, in this day and age, in Britain, don't expect you to cross over into acting... there's a bit of a stigma to that. What people don't realise is that I did actually train for acting when I was younger as well, so it's kind of relighting a little fire there. I've got a ball of emotions in my stomach right now."
Are you interested to see Sarah move into acting? You can see how she gets on when the film is released in UK cinemas on 18 December — check out the trailer after the jump.
To see more of the premiere and after party, including Rupert Everett, Dionne Bromfield, Paloma Faith, Noisettes, Celia Imrie, Jodie Whitaker and David Hayes, just read more.


Images include: Sarah Harding, Gemma Arterton, Rupert Everett, Talulah Riley, Tamsin Egerton, Kimberley Walsh, Nicola Roberts, Dionne Bromfield, Paloma Faith, Shingai Shoniwa, Noisettes, Celia Imrie, Jodie Whitaker, David Hayes