Photos of Sugababes, Alexa Chung, Alex Turner, Josh Hartnett at Pixie Geldof's Christmas Party
Alexa Chung Chats About Costumes For Pixie's Party
Bungalow 8 was the place to be last night, as Pixie Geldof was throwing her very own Christmas Party. Pixie entered in the festive spirit and wore fancy dress, as did Alexa Chung: the pair sang Madonna's "Papa Don't Preach" together on the karaoke, before Alexa left the party with boyfriend Alex Turner. The Sugababes went for classic LBDs and Josh Hartnett also partied til late. Alexa expressed her thoughts about party on Wednesday in her Girl About Town column for The Independent, saying: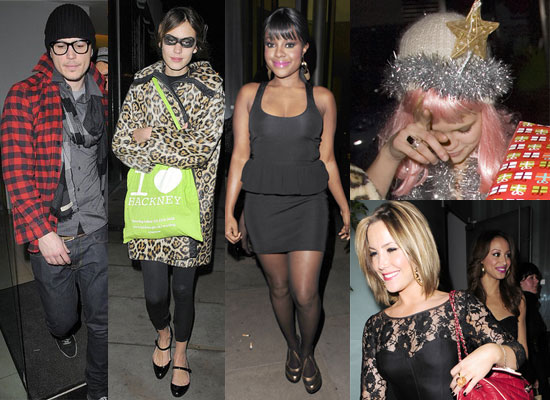 "I'm supposed to be attending a karaoke party later this week with a Christmas fancy-dress theme. Why is it that, according to the internet, the standard go-to costume for any woman attending a fancy-dress party at this time of year is sexy Santa? Santa isn't meant to be sexy and Santa isn't meant to climb down chimneys in a bra and panties. It angers me. It provides yet another opportunity for girls to ignore themes and just dress slutty. Since when did wearing suspenders count as a costume? I want to go as a Christmas cracker (no pun intended)."
Her leopard print coat and face paints aren't exactly screaming Christmas cracker to me, so maybe Alexa changed her mind at the last minute. At least she made the effort to dress up as something, and Pixie looks pretty cute in her festively decorated beanie!
To see more pictures of the party-goers, just read more.