Photos of Sugababes Then and Now As Mutya Buena Applies for Ownership of Sugababes Name For Original Lineup Siobhan and Keisha
Mutya Buena Applies For Rights to the Sugababes Name
Mutya Buena has applied for ownership of the Sugababes name, naming her two fellow original Sugababes on the document — Siobhan Donaghy and Keisha Buchanan. None of the original three members are in the current formation of the group, who celebrated their album Sweet 7's launch last night. If Mutya wins ownership of the name she will have the right to use the band name on any entertainment products of her choice, and it's likely that the current lineup — Heidi Range, Jade Ewen and Amelle Berrabah — will be unable to use the name. When Keisha — the last original member of the group — left, Mutya stated: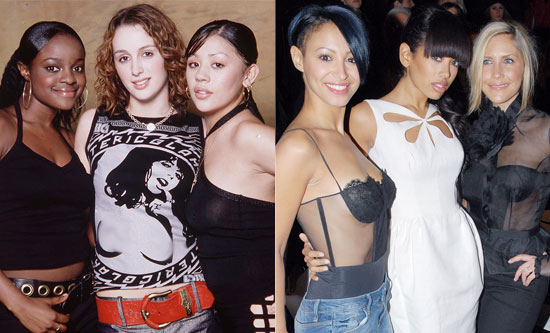 "It just means the Sugababes have ended because there are no original people remaining. It kind of doesn't make sense that there is Sugababes any more. I don't know if it's just me, but Keisha being the original that was left out of the band, her leaving doesn't make it Sugababes really."
She also hinted that she'd love the original girls to get back together. The law firm that put forward the application on behalf of Mutya, Kilburn and Strode, said they are "hopeful" registration will be passed in a few months. What do you think — should the original members be granted ownership of the name? Or do you think it's okay that Heidi, Jade and Amelle use it? Let me know!