Photos Of Take That - Gary Barlow, Mark Owen, Jason Orange, Howard Donald - At Kings Cross And In Paris To Promote The Circus
Take That Resume Robbie Reunion Rumours
Take That hopped on the Eurostar at Kings Cross yesterday and headed to Paris, where they put on a showcase of songs from their new album The Circus for a select group of fans. The album was released on Monday and Gary, Mark, Howard and Jason have been doing plenty of press for it, with ex-band member Robbie Williams being brought up, mainly thanks to Gary and Robbie's outing to a football match recently. Gary said: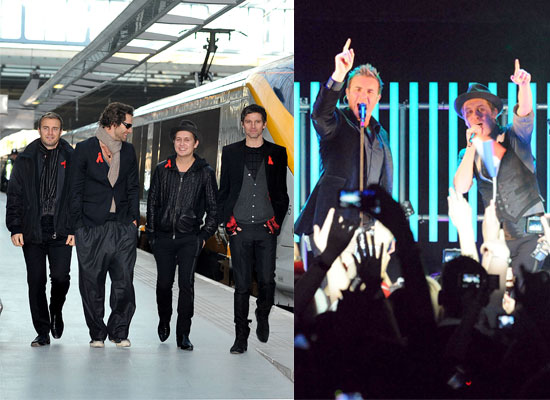 "The five of us were together a lot over the summer and it just felt like we were back in the 90s. I get an e-mail every week from Rob, Mark gets one every other week, J phones him once a week. We're all keeping in touch. It's really fun getting to know him again, I must say. The five of us are rebuilding our friendship and that's really the only place to start."
Their reunion is as popular as ever with the band getting plenty of attention from old and new fans at the train station yesterday, I'm sure there's a lot of them that would love to see Robbie return as part of the lineup even if it's for one night only. I guess we'll have to wait and see!
To see more of the boys, just read more.