Photos of Tallulah Riley In Lingerie Underwear Semi-Naked in Esquire March 2010 Issue
Talulah Riley Tells Esquire About Her Love For Older Men
British actress Talulah Riley has been making waves in St Trinian's and The Boat That Rocked and filming Inception alongside Leonardo DiCaprio, but she found time for a gorgeous lingerie shoot for Esquire's March issue. Like Rachel Weisz, Talulah is featured in the magazine's "Women We Love" section, and as well as posing for pictures the actress chatted about her love of physics, her fiancé, and the type of man she loves. Here are the highlights: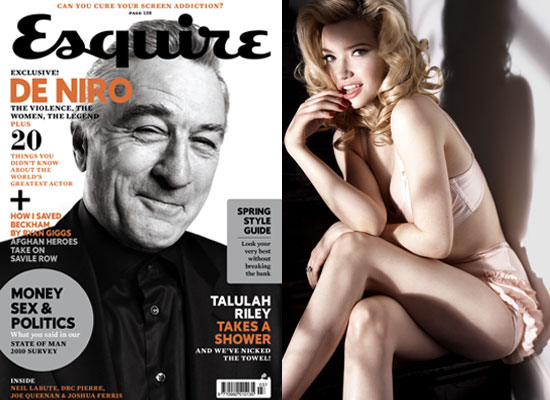 On studying at the California Institute of Technology: "I got into physics through pop science and quantum science, and ended up being such a quantum groupie. Let's assume that imminently there's going to be a world of new human understanding. It's like when the internet took off, only now we've got the Large Hadron Collider and something's going to be found, only no one knows what it's going to be. I thought if I could learn quickly enough to try and get involved then that would be super-exciting."
On having a girl-crush on Maria Spiropulu: "She's working at CERN at the moment and is a complete rock star. She's incredibly energetic, driven and intelligent, as well as being an all-round lovely person."
On living with physicist and entrepreneur Elon Musk and his five sons: "It's funny, but when I was a young romantic I wanted to have 10 kids. Along with issues like global warming, I think a problem with the world today is population decline. We're going to try to have five girls to balance things out."
To see what Talulah said about the kind of man she likes, just read more.


On dating older men: "Even as a teenager, the men I found attractive were all in their thirties. In my experience most women mature quicker than men. Plus, the things I wanted to do from a very early age (ie, get married and have children) precluded a lot of guys my own age from wanting to have anything to do with me."
On the kind of men she likes: "I like men who are good and kind. This is paramount. I want someone with whom I can spend a life having good times and conversation, and depend on to do the right thing. There are a lot of subtleties. I am very domestic, yet I love adventures and independence. I am quite old-fashioned in a lot of ways, and terribly liberal in others. I think it comes down to finding the person who has compatible idiosyncrasies."
The full feature appears in the March issue of Esquire, on sale Thursday 4 Feb.
Photographer credit Alisa Connan. Pictures courtesy of Esquire