Photos of Taylor Lautner and Taylor Swift on a Date, Taylor Swift and Taylor Lautner Dating Gossip 2009-10-29 01:56:19
Taylor and Taylor Go On a Shopping and Dinner Date!
Taylor Swift and Taylor Lautner went shopping at Alice + Olivia in Los Angeles yesterday, before heading for dinner at Ruth's Chris Steak House. We've seen the couple on dates in LA and in Chicago, and they looked very happy together as they giggled in the car: so cute! When asked whether they're a couple during a radio show interview, Swift said: "I don't know, he's an amazing guy and we're really close … and ah … yep". She also spoke about how excited she is to see their film Valentine's Day, and said she hopes they will "get to do a private screening" — check out the trailer after the jump. Unsurprisingly Taylor is on "team Jake" when it comes to the Twilight battle, and you can show your allegiance by picking up some cute gear!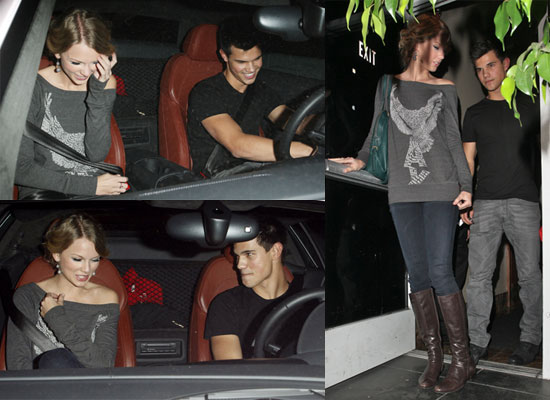 To see loads more pictures of their date, plus the trailer for Valentine's Day, read more.