Photos of Taylor Swift in London, Watch Taylor Swift Talk About Taylor Lautner on Paul O'Grady, Taylor Swift InStyle Interview
Taylor Swift Sends Mixed Messages About Taylor Lautner
Following her big win at the CMA Awards in America last week, greeting cards designer Taylor Swift looked cute as she made her way around London yesterday, wearing a red hat during the day and then returning to her hotel in the evening with a Topshop bag. She appeared on the Paul O'Grady Show yesterday and didn't give a straight answer when quizzed about her relationship with Taylor Lautner: check out the full interview and her performance of "Fifteen" after the jump. However, in an interview in the latest issue of InStyle US she told a different story, saying: "I'm in the mind-set where I choose to be single — like I got to light scented candles and write in my diary and I wouldn't have time for that if I had a boyfriend right now!" We've seen the Taylors together in LA and Chicago, so what do you think is happening?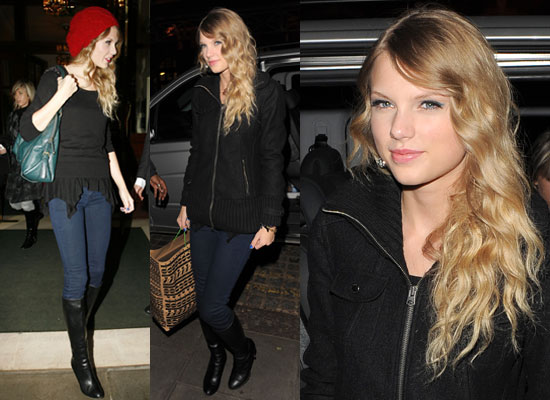 To watch Taylor on Paul's show and see more pictures of her in London, just read more.
Taylor talking about Taylor Lautner
Taylor performing "Fifteen"