Photos of Tom Cruise and Katie Holmes in London For Valkyrie Premiere
Tom Covers Katie's Belly and Considers a Move to London
Katie Holmes and Tom Cruise walked the red carpet in London's Leicester Square last night for the UK premiere of Valkyrie. They were joined by lots of stars from both sides of the Atlantic, including Kelly Rowland, Dermot O'Leary and Dancing on Ice's Melinda Messenger and Zoe Salmon. The couple then went on to the Ivy for dinner, and Tom placed his hand over Katie's belly as they left: what could that mean I wonder? Tom was raving about London at the premiere, telling The Mirror: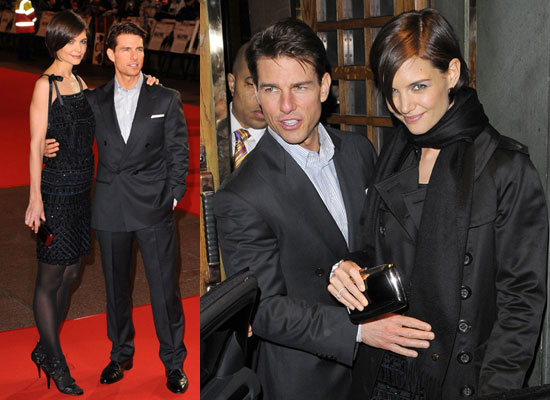 "It would be a fantastic move. Katie was absolutely brilliant on Broadway and to work in the West End would be a joy. It is something to consider for both of us. I think we'd love it here, even if it is so, so cold!"
I would love to see Tom, Katie and Suri (and any new additions!) move to our side of the pond, and see Katie tread the boards in the West End: what about you?
To see Tom and Katie at the Ivy and all the stars at the premiere, including Kelly Rowland, Dermot O'Leary, Melinda Messenger, Zoe Salmon, Connie Fisher, Tom Wilkinson, Eddie Izzard, Bill Nighy and James May, just read more.
Images include: Tom Cruise, Katie Holmes, Kelly Rowland, Dermot O'Leary, Melinda Messenger, Zoe Salmon, Connie Fisher, Tom Wilkinson, Eddie Izzard, Bill Nighy, James May