Photos of Topless Helena Christensen in British Elle Magazine January 2010, Plus Excerpts From Her Interview 2009-12-01 06:00:00
Helena Christensen's Stripped Bare in Elle Magazine
Helena Christensen is looking stunning on the front cover of the new issue of Elle magazine, and her accompanying interview is just as revealing as the photoshoot. She spoke exclusively to the magazine about her photography, the beauty of the female body, the "Supermodels", and Kate Moss. Here are some excerpts: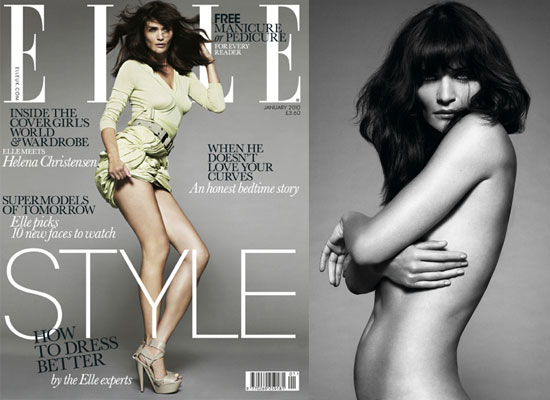 On posing nude at 40: "Dude, no, I don't mind! I just wanted the nudity to be in that normal, subtle way because my grandmother is still alive and I want to keep her for another 15 years – I don't want her to get a shock! I have no problems with showing my body."
On her photography: "I love breasts. I love the female shape. It's crazy – you can have movie posters with men with machine guns but oh, God forbid you show the nipples! That never ceases to amaze me. It's flabbergasting. I can understand if you have your legs spread and you're pushing yourself into the camera – that's sexually erotic. But the sensual contours in the male or female shape? Come on, guys, relax. So I have no problems with it. But I'm Danish. Everyone's naked on the beaches. We don't really give a s***."
On Kate Moss: "Obviously, Kate has an exclusive style, so it's a huge value that she can pick the things she picks. I would be super-happy – to have a big company behind me like that, who will trust your style and absolutely base whole collections on it – I mean, for f***'s sake, that's ultimate!"
To read more from Helena about style and the "supermodels", just read more.
On style: "Who determines who has style? I think you've gotta have a f*** everybody attitude about it. I'm gonna do what I feel like doing. If I feel like dressing ridiculous today, I will and I don't care. I love seeing people walking down the street where I'm thinking, "What's going on there? OK, that is so wrong on so many levels, but pretty cool at the same time!'"
On the 'Supermodels': "Yes, we supported each other. We stood by each other. One day you lost a job; the next day you got one – we were in the same position. [we] all had interesting personalities and were fun. They were versatile in their way of posing and expressing themselves. They had a certain depth to them that made you interested in more than just the façade. [The term supermodel is] silly and cartoonish... that whole group of girls, at the end of the day, I was there. I did it. I am a million experiences richer. If I was gonna do a job this weird, better to do it all the way, right?"
The full interview and shoot appears in the January issue of British Elle magazine, on sale Wednesday 2nd December