Photos of Victoria Beckham Arriving in Finland to Comfort Injured David Beckham Plus Carol Ann Duffy's Achilles Poem Tribute
Victoria Arrives at David's Side as Poetic Tribute Is Made
Victoria Beckham arrived in Finland yesterday to comfort David after his successful operation on Monday. David's Achilles injury has led high profile figures to send messages of support, with Gordon Brown contacting Becks and Poet Laureate Carol Ann Duffy writing a poem in tribute: you can read the poem after the jump. The surgeon who operated on David said Becks plans to return to London then LA today, while reports suggest the Beckhams will try for a girl now. David posted a message of thanks on his website yesterday, saying: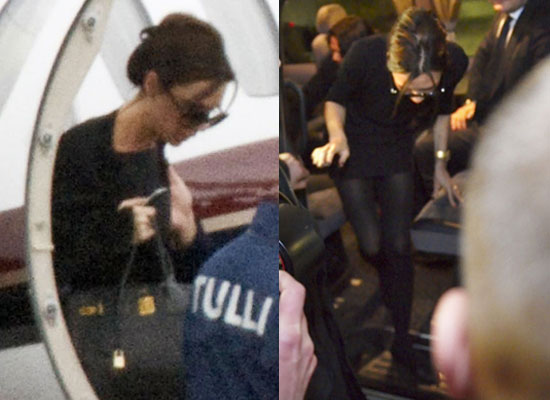 "I'd like to take this opportunity to thank everyone for their messages of support, they mean a lot to me. The operation was a success and I'd like to thank Dr. Orava and all the medical staff who looked after me during my time in Finland. I'm feeling positive and now concentrating on getting back to full fitness over the coming months."
To read Carol Ann Duffy's poem, just read more.
"Achilles" by Carol Ann Duffy
Myth's river — where his mother dipped him, fished him, a slippery golden boy flowed on, his name on its lips.
Without him, it was prophesied, they would not take Troy.
Women hid him, concealed him in girls' sarongs; days of sweetmeats, spices, silver songs...
But when Odysseus came, with an athlete's build, a sword and a shield, he followed him to the battlefield, the crowd's roar,
And it was sport, not war, his charmed foot on the ball...
But then his heel, his heel, his heel...