Photos of Victoria Beckham on Cover of Harper's Bazaar December 2009 Issue Plus Interview on Emma Watson and Exercise
Victoria Beckham Reveals Solo Career Was a Mistake
Victoria Beckham posed in lingerie for Harper's Bazaar's special double cover December issue. While she was showing off her more relaxed curls at a basketball match with the family at the weekend, Victoria wears her hair in a tight top knot hairstyle for the 16 page spread by Alexi Lubomirski. FabUK has the lowdown on what Victoria said about her customers and her nerves and I've got extracts from her interview about her solo career, her future, Emma Watson, her exercise regime and the importance of positive thinking. Here are the highlights: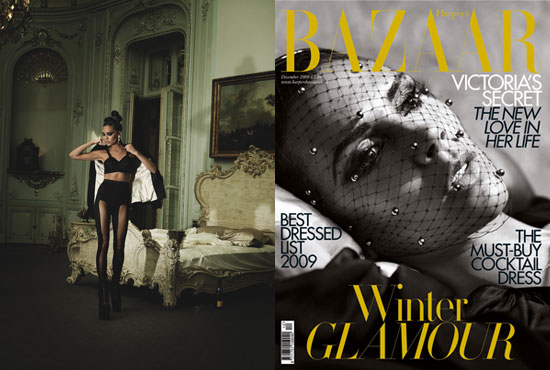 On her solo career: "People never believed the solo singing career, and it wasn't the real me – I was a little bit lost at the time. I don't mind making mistakes. I just can't live with anyone else's mistakes. I'm a complete control freak. I'm not the easiest person to work with because I'm so passionate and being a working mum, it's a balancing act."
On her future as a fashion designer: "I just want to learn as much as I can. I was always pushed into the theatre and dance – it's just taken me a long time to figure out what I wanted to do."
On why Emma Watson caught her eye: "So sweet, so true to herself…. There are so many young girls wearing too much make-up, too much hairspray – I find that very dated."
On positive thinking: "If you don't believe in yourself, no one else will."
On why her exercise regime is so important: "I didn't want to rely on retouching …. I wanted to look at those pictures in 20 years' time and say, 'Wow, look – after three kids – I didn't look bad.'"
To read what other designers had to say about Victoria, just read more.


Roberto Cavalli on Victoria: "It's difficult to create fashion, you can't just learn it, you have to have fashion in your DNA, and she has it."
Antonio Berardi on Victoria: "Women tend to be a lot more practical than male designers, because they know exactly what works for them, but at the same time, she's different to other female designers because there's this extreme sense of feminity to what she does – fantasy and reality at the same time."
Manolo Blahnik on Victoria: "She's a creature of today, a total artefact of today. She knows what women want. Her things have created an incredible stir, and in recessionary times, this is so fabulous."
Great praise indeed! You can read the full interview in the December issue of Harper's Bazaar, on sale Thursday 5 November.