Photos of Victoria Beckham and David Beckham at Wembley Stadium For David's 109th Cap at England's Friendly Against Slovakia
Victoria and the Boys Help David Beckham Celebrate 109
David Beckham won his record-breaking 109th cap by taking part in England's 4-0 defeat of Slovakia in the friendly match at Wembley Stadium on Saturday. Victoria flew from LAX to London with the boys on Friday so the whole family could join in the celebrations, and she swapped her fancy in-flight outfit to casual flip flops and jeans. Although David didn't start for England, he said he's happy being a substitute and with his role assisting rumoured dad-to-be Wayne Rooney's goal, saying: "Substitutes can be very important... Sometimes substitutes come on and can help secure a game, or change a game. I was happy with getting on and happy with the assist... If I start, then I start. If I don't, then I am part of the team - a good team which is going forwards." Speaking about his record appearance, Becks added: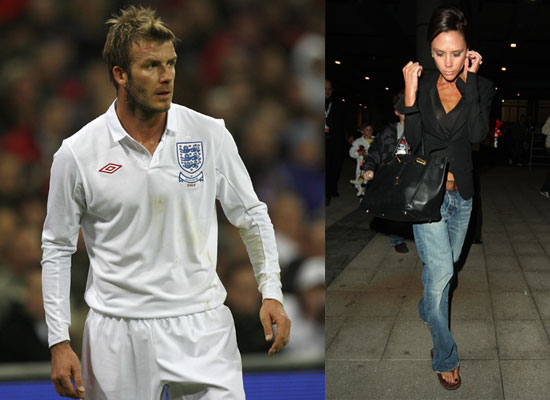 "I just got asked to do a picture with a shirt with 109 on the back but I did that for 100 and obviously it's a big thing for me but I don't think we should focus too much on that. But of course I just couldn't wait to get on and couldn't wait to get to that 109. I said during the week that when I equalled the record I got a note from Stephanie Moore (wife of the late Bobby Moore) saying 'congratulations' and Bobby would have been so proud... I wasn't nervous — if I'm still nervous playing football and playing at Wembley for England now it's worrying."
Congratulations David! Bring on the World Cup qualifier on Wednesday...
To see more pics of David and Victoria, just read more.
Images include: David Beckham, Victoria Beckham, Fabio Capello, Wayne Rooney, Frank Lampard