Photos of Victoria Beckham, Eva Longoria and Nicole Richie at Cruz's Birthday Party Plus David Beckham Playing For AC Milan
Victoria Parties With Cruz and Co. While David Plays the Game
Before Victoria Beckham and Eva Longoria got their glad rags on for the Oscars on Sunday, they joined together with a pregnant Nicole Richie and Joel Madden to celebrate Cruz's fourth birthday at Xtreme Martial Arts World in North Hollywood on Saturday. Cruz dressed up in two costumes and looked cute as a button alongside big brothers Romeo and Brooklyn, while Victoria wore one of those headbands she loves. Dad David had to miss out on the fun as he was in Italy, preparing for his AC Milan match against Cagliari on Sunday, which they won 1-0.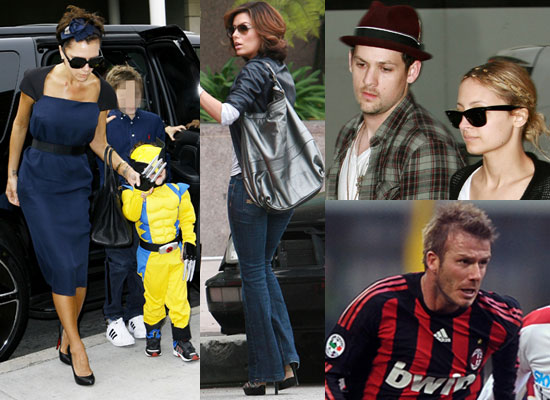 When David was asked whether he might lose his place in the England squad if he returns to LA Galaxy, he replied: "Of course, people have said that, it's been in the news that people have said that. But I've been at the Galaxy for a year and a half now and I've managed to stay in the England team. We'll see." Poor Becks is still waiting on a decision about his future, saying: "I have no news, good or bad. The talks are still going on, so I hope things will work out well and that I stay." I hope so too, David.
To see more pictures of David on the pitch and Cruz's party, just read more.