Photos of Victoria Beckham Filming Dress Advert in London, David Beckham With Sons in LA
Victoria Has a Swinging Time While David's on Daddy Duty
Victoria Beckham had her designer hat on as she matched her popular dress to our grey weather and got involved with the advert for her upcoming dress collection in London yesterday. Her style is no doubt a big factor in your preference to see her over Katie Price in the Sex and the City movie sequel. Meanwhile, David hung out with their three boys in Los Angeles, with Cruz ever more the mini me thanks to his and David's matching hair cuts. Referring to the negative atmosphere at his LA Galaxy match last weekend, David said: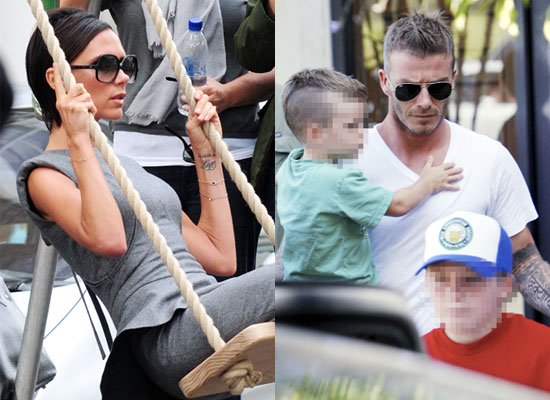 "It is not about whether I can move on, I wasn't the one booing, at the end of the day I play my game, whether I get booed or not doesn't matter to me. I don't like my sons seeing that and hearing that, and my family, from an organised group of fans. I think it was disrespectful, some of the things that were being said and also some of the banners, but it is what it is. To be honest all I'm going to do is play my football, if it's not good enough for some people, as long as it's good enough for myself and the team nothing else matters."
On a more positive note, David confirmed that his coach and team will support him if he gets selected to play for England. I love seeing Becks representing his country!
Loads more pictures of all the Beckhams, so just read more.